Vitaco Health Group has announced its debut on the ASX after almost a decade under private equity ownership.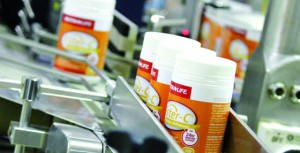 The food supplements company was formed through the merger of Healtheries New Zealand and Nutra-Life & Fitness.
The company's IPO raised $231.6 million and closed "heavily oversubscribed following broad support from a range of brand name Australian and Asian fund managers as well as strong support from retail investors."
Vitaco consists of the vitamins and supplements divisions, whose brands include Healtheries, Wagner and Nutra-Life, and the sports and active nutrition and health food segment, which incorporates the Musashi, Balance, Bodytrim, Healtheries and Abundant Earth brands.
"We are delighted to mark the next chapter in Vitaco's growth with our ASX listing today and are particularly pleased to welcome our new Vitaco shareholders, including a number of highly regarded Australian, New Zealand and international fund managers. Investors have responded enthusiastically to the company's solid growth prospects, as consumers both in Australia and around the world pursue increasingly healthy lifestyles," said Vitaco CEO Ryan d'Almeida.
"The well-deserved reputation of Australia and New Zealand as a 'clean and green' manufacturer of nutritional products provides Vitaco with a competitive edge, particularly in the high-growth Chinese market, which is demonstrating an increased appetite for products such as milk biscuits and nutritional supplements."
Around 38% of Vitaco's annual revenue derives from its New Zealand business. The company manufactures most of its products at two facilities in Auckland.
"Each day more than a third of Australians take some form of dietary supplement, which underscores well the strength of the Australian and New Zealand markets for vitamins and dietary supplements, which is valued at more than two billion dollars. The burgeoning sports nutrition market in Australia and New Zealand is now the world's second largest, valued at more than eight hundred and forty million dollars," Mr d'Almeida said.
"Vitaco has an established track record in product innovation, which is an important component of our ability to tap into evolving consumer preferences with new and exciting products. The highly fragmented nature of the global health food and wellness product market also presents a range of growth opportunities through a combination of organic growth, as well as continued expansion through future acquisitions."