Thanks to the pioneering work of researchers at the University of Wollongong (UOW), a world's first bionic bra could very soon become reality and a manufacturing specialty for the Illawarra.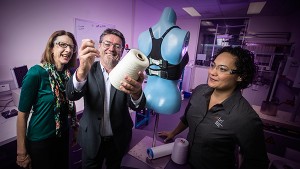 According to the media release by UOW, the researchers have spent 15 years developing the bra that is set to automatically tighten in response to breast movement. The latest prototype is quite promising.
"Our ability to make things from advanced materials has been greatly enhanced recently with the advent of new approaches to fabrication. The advent of approaches such as 3D printing has enabled us to assemble structures containing new sensing technologies to more accurately monitor movement and new artificial muscle technologies to control it. These advances have inspired us to (re)confront the challenges involved in creating the Bionic Bra," said Professor Gordon Wallace, Executive Research Director of the Australian Research Council Centre of Excellence for Electromaterials Science based at UOW.
Professor Wallace described the latest Bionic Bra developments in the Opening Keynote Address of the 9th Australasian Biomechanics Conference (ABC9) which took place at UOW from 30 November to 2 December.
"Unfortunately, the most supportive sports bras tend to be the most uncomfortable to wear. Making matters worse, BRA research has found that 85 per cent of women are wearing bras that do not fit or support their breasts correctly. Although we have made substantial progress, we still have a way to go before the Bionic Bra can be taken from the bench top to the washing machine. However, when finished, the Bionic Bra will transform bra design," said Professor Julie Steele, Director of Breast Research Australia (BRA) based at UOW.
"Results indicate that our technologies can sense breast motion and provide additional breast support. The challenge now is to integrate these technologies into a functional, comfortable bra," Bionic Bra team member Dr Sheridan Gho said.
The research is not only a scientific breakthrough for women, but it could also mean a manufacturing win for the Illwarra where the bra would be produced once it's ready for the market.
"Manufacturing is turning to customisation, and in terms of who might take up the project, my guess is it won't be traditional manufacturing companies. It's a great opportunity to create the next manufacturing industry – we've got plenty of young people with lots of enthusiasm who can get behind this and turn it into a new manufacturing opportunity for the Illawarra," Professor Wallace told the ABC.