Toyota Australia has exported its one millionth vehicle to the Middle East this month, a huge achievement for the carmaker which has been supplying Camry and Aurion vehicles to the region since 1996.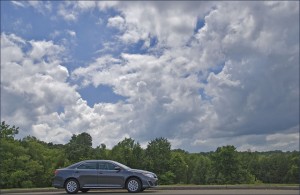 Toyota Australia Executive Vice President and Chief Operating Officer Dave Buttner said they are really proud to be able to export cars to the region, a milestone which he considers a testament to the quality of cars that comes out from the production line in Altona.
"Toyota Australia is really proud to be able to supply vehicles to the Middle East for the past 17 years," Mr. Buttner said.
"We could not have achieved one million exports to the region without the support of the local dealers and customers who have continued to buy our vehicles."
According to a media release from Toyota Australia, the company has exported 72,899 Camry and Aurion vehicles last year. About 97 percent of the vehicles were sent to the six Gulf Cooperation Council countries, including Bahrain, Kuwait, Oman, Qatar, Saudi Arabia and the United Arab Emirates.
Mr. Buttner said exports, which account for 70 percent of Toyota Australia's local production, play a vital role in their balanced business model and they will do everything they can to continue supporting their customers.
"To ensure we understand the needs of the market, Toyota Australia has key support employees living in the region to constantly talk to our customers and distributors about their needs and reaction to our products," he said.
"Through this information and our extensive knowledge of the Middle East, we are able to build high quality and durable vehicles that can withstand all weather conditions and local terrain."
Aside from the Middle East market, Toyota Australia also exports to New Zealand and the South Pacific Islands.
The company reached its one million exports to all overseas markets in August last year, another milestone since it is also a first for a local manufacturer.
Exports are likely to be a key area of focus for the Australian car manufacturing industry after Prime Minister Tony Abbott demanded for a boost in export sales.
Abbott said the Coalition Government wants the car industry to remain viable in Australia but the assistance will depend on improved sales volume.
"I want the car industry in this country to have a long-term, viable future. I don't want it to live from hand-to-mouth," the Prime Minister said.
"There will continue to be a high level of assistance to the motor industry, but we expect the motor industry in return for that high level of assistance to provide us with a reasonable indication of how it is going to increase volumes, particularly export volumes."