Australia, Canada, the US, Japan, Malaysia, Mexico, Peru, Brunei, Chile, New Zealand, Singapore and Vietnam signed the historic Trans-Pacific Partnership (TPP) in Atlanta, Georgia, on Tuesday.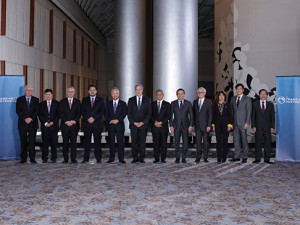 Under the TPP, which covers 40% of the global economy, 98% of tariffs across TPP countries will be slashed on products including beef, dairy, wine, sugar, rice, horticulture, manufactured products, resources and energy.
"Australia and the Asia-Pacific region are undergoing significant economic transformation. The TPP allows us to harness the enormous opportunities this presents as we look to build a modern Australian economy that can face the challenges of the 21st century," said Minister for Trade and Investment the Hon Andrew Robb.
According to the Minister's statement, one third of Australia's total goods and services exports – worth $109 billion – were sent to TPP countries in 2014.
For Australian manufacturers, the TPP creates new market access opportunities for exporters by eliminating or significantly reducing tariffs on iron and steel products, ships, pharmaceuticals, machinery, paper and auto parts.
SA Minister for Investment and Trade Martin Hamilton-Smith welcomed the signing of the TPP.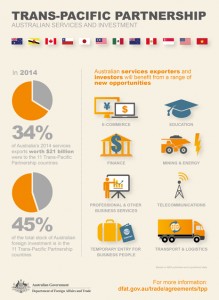 "The Trans Pacific Partnership Trade Agreement complements the recently signed China, Australia Free Trade Agreement, Japan-Australia Economic Partnership Agreement and Korea-Australia Free Trade Agreement. It will promote economic growth in the Asia Pacific, further integrating South Australia into the region and creating a platform for expanding trade relationships. South Australia has sent a strong signal that it is serious about doing business across all international sectors," he said.
Tasmanian Minister for State Growth Matthew Groom, said the TPP is an economic win for Tasmanian jobs, removing barriers for exporters and unlocking potential new markets.
"This agreement presents unprecedented opportunity for Tasmania to build on an already prosperous relationship with TPP countries. In 2014-15 Tasmania's goods exports to the TPP countries totalled $881 million, representing 34.9% of Tasmania's total goods export trade ($2.52 billion)," he said.
The TPP will not require any changes to Australia's intellectual property laws or policies, whether in copyright, pharmaceutical patents or enforcement and will not increase the price of medicines in Australia.
Australian businesses will now also be able to bid for tenders to supply goods (such as drugs and pharmaceutical products, electronic components and supplies) used for government purposes in Brunei Darussalam, Canada, Malaysia, Mexico, Peru and Vietnam.