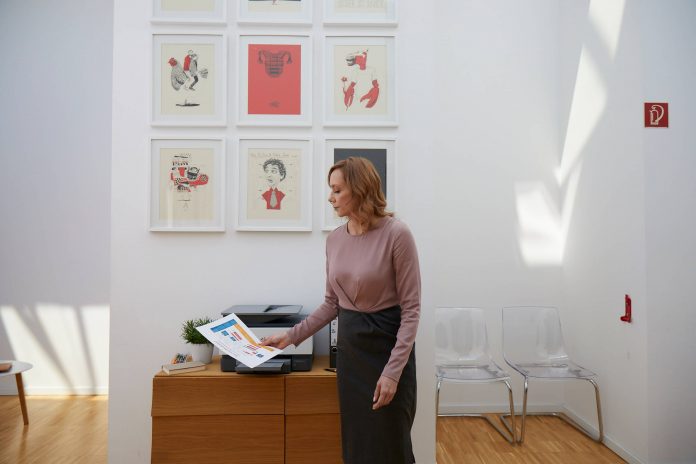 The 'Work from Anywhere' Series is Sponsored By 
As new working arrangements become the norm, many businesses, including small to medium enterprises are investing in equipment to make sure that their new environment remains conducive to their operations. In the absence of commercial grade office equipment, the necessity of having technology at home that could perform various tasks like its business-as-usual is essential to companies that are adapting to the new normal.
Smart technology, which has become a vital tool driving business growth and innovation, has become a standard when it comes to office equipment. Smart technology allows the business to focus on growth and other key goals, which are all the more crucial for surviving in the pandemic era.
The printer market is one industry that has grown and innovated relentlessly to include smart technology in its products. HP's new line of smart printers – the reimagined HP OfficeJet Pro series, provides a transformative solution to seemingly simple but time consuming and counter-productive printing tasks.
Even in work from home situations there will still be legal documents to be signed, forms to be filled out manually, files to be archived, and even children's worksheets to be printed. The new reality requires a lot from a printer, and getting the right one can save businesses a lot of money and lower printing costs in the long run.
The key feature in the HP OfficeJet Pro Series is the Smart Tasks, which allows for the automation of scanning tasks, eliminating repetitive steps and making the organisation of documents easier. Using the HP Smart App, users can print from anywhere, and scan and edit documents from their mobile phone. Tasks like scanning and filing receipts for example can easily be done through one-touch shortcuts. Simply scan a receipt or a business contract then automatically save to the cloud, send to email or print.
The HP OfficeJet Pro series was also designed to reduce energy use, and is a model of eco-friendly technology. Its ink cartridges are recyclable, and it is also made from recycled printers and other electronics. The 8000 series, which is a great value printer perfect for everyday printing, is made from more than 15% recycled material and the 9000 series is more than 10%. It also features innovative slide-off glass to make documents easy to grab, a feature that enhances user experience.
Users need not compromise on productivity when it comes to printing just because they are working from home. In this crucial time working smart and fast allows one to find the perfect balance between taking care of business and quality time with the most important people at home. Whatever the work, the advantages of having the right printer with smart technology to meet today's demands cannot be understated.
Find the full range of HP OfficeJet printers here.
---
[1] Based on internal HP testing. Average timing estimate based on: 1) downloaded HP Smart app on mobile device, 2) setting up Smart Tasks shortcut, 3) scanning jobs which have more than 2-3 tasks associated with them (scan to email, save and rename, store to cloud, etc.). Average timing savings comparison based on using printer and desktop scan software to complete similar scanning tasks. Requires the HP Smart app download and supported HP printer. For details on local printing requirements see hp.com/go/mobileprinting.
Image via HP Australia