CSIRO and Perth-based bike maker Flying Machine have teamed up to make a bicycle which uses metallic 3D-printed parts.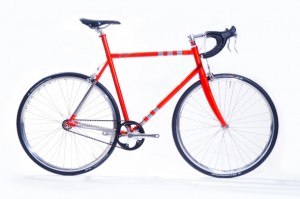 The lugs of the bike, which are the small metallic components that join the tubular frame of the bike, were designed and 3D-printed out of titanium at CSIRO's Melbourne additive manufacturing facility Lab 22. According to CSIRO the lugs of the bike, which was named 3DP-F1, are the first 3D-printed parts to feature on a bicycle in Australia.
"What's also really exciting is that the lugs are produced in Melbourne and the frame building is done in the team's Perth studio, making these Flying Machines truly Australian made," said CSIRO on their blog.
Flying Machine's co-founder Matthew Andrew said the bike, which was customised to his requirements, has surpassed his expectations.
"It fits like a glove and rides even better than I had hoped. It's light, stiff, fast and extremely comfortable," said Matthew.
"We've wanted to use this technology for some time now, but until recently we didn't know who to turn to make it happen," he added.
According to another article Flying Machine plans to begin incorporating the parts across its range of bikes, with prices starting at about $2800.
Matthew said they previously ordered their lugs from overseas and had to wait for 10 weeks for the parts to arrive. With 3D printing they only had to wait 10 days. Aside from that, CSIRO's $1.3 million high-tech 3D printer is the only one in Australia that could do the job at the right price point, he said.
Chad Henry, CSIRO's head of titanium 3D printing, said 3D metal printing is growing "exponentially".
"Right now you need a PhD to operate the machines," Henry said. "In the future, you'll need a Tafe qualification."
Lab 22 has manufactured a diverse range of prototype products including biomedical implants, automotive, aerospace and defence parts for Australian industry.
Find out more about titanium technologies at CSIRO.