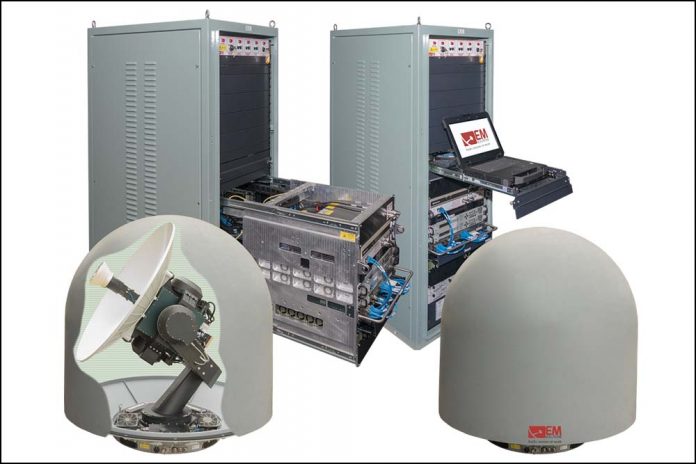 Electro Optic Systems' Brisbane-based subsidiary EM Solutions has recently received a series of orders to supply its new 2-metre Fleet Satellite Communications Terminals to three leading NATO navies.
The new contracts, valued at more than $15 million, will see EM Solutions deliver terminals for several European frigates and warships during the course of 2022 and 2023.
The Fleet Terminal is a new variant of the maritime communications terminal being developed for the Royal Australian Navy, under a contract with the Australian Defence Innovation Hub.
Designed to meet the most severe environmental and performance conditions, the 2-metre terminal will operate like the existing 1-metre Cobra terminals, in both X-, Ka-, and commercial satellite bands.
According to EOS' statement, it will be capable, thanks to its larger antenna, of supporting higher data rates, with its duplicated systems making it the most resilient terminal on the market.
EM Solutions CEO Dr Rowan Gilmore said these new order takes the company's order book to more than $38 million.
"Last year we supplied a number of our 1-metre Cobra maritime satellite systems to our partner navies in Europe, and this has now given these customers the confidence to proceed with placing orders for EM Solutions' new 2-metre Fleet maritime terminal," Mr Gilmore said.
"This new capability will bring robust and secure communications into the very core of their fleets."
Image credit: https://www.emsolutions.com.au/news-events-case-studies/company-news/item/cobra-exports