The Inside 3D Printing Conference and Expo is scheduled to take place 9–10 July 2014 at the Melbourne Convention and Exhibition Centre in Melbourne, Australia.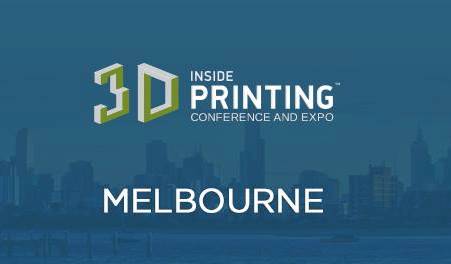 The two day event will be a gathering place for industry insiders, potential investors, 3D printer manufacturers, consumers and suppliers.
Attendees will have a one-of-a-kind opportunity to see the latest and greatest 3D printing technologies that have greatly influenced and revolutionised the manufacturing, medical, aerospace, design, fashion and numerous other industries.
3D scanning equipment, 3D printers, 3D printed fashion design and 3D printed sculptures are just some of the amazing products that will be on display.
Some of the most influential individuals in the 3D printing space will be giving presentations at the conference.
Yang Yihu, President and CEO of ESUN will give the opening keynote speech "The Next Frontier in 3D Printing".
Other keynoters include:
Terry Wohlers of Wohlers Associates will examine the trends of the industry and predict where 3D printing is headed;
Milan Brandt of the Royal Melbourne Institute of Technology University (RMIT University) will cover the latest developments in additive technology and how the research conducted at the RMIT Advanced Manufacturing Precinct is helping companies create new market opportunities;
"3D Printing and the Future (or Demise) of Intellectual Property" will be presented by John Hornick, Partner, Finnegan, Henderson, Farabow, Garrett & Dunner, LLP;
"The World's First Commercial 3D Human Tissue Bioprinter" will be presented by Chris Leigh-Lancaster, Senior Program Manager of Biomedical Instruments & Devices at Invetech; and
"How Portable 3D Scanning is Ready to Change the Game" will be presented by Trent Clews-de Castella, Co-founder and CEO of Scann3d.
Stratasys is the platinum sponsor of the event, while 3D Systems, CSIRO, 3D Group, Keech 3D Advanced Manufacturing, RMIT University are just some of the many exhibitors.
Click here to register and access further information.