Armor Composite Engineering, CSIRO, Micro-X Pty Ltd, Ocius Technology, University of Canberra, the Bureau of Meteorology and Deakin University will get Australian Government funding of $14.2 million to develop and demonstrate innovative technologies that can enhance defence capability.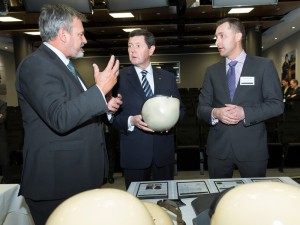 According to the announcement by Minister for Defence Kevin Andrews, the funding is made available under Round 19 of the Capability and Technology Demonstrator (CTD) Program which is managed by the Defence Science and Technology Group (DST Group).
"These proposals have the potential to advance Defence capability, produce innovative products for Defence and civilian use, and stimulate Australian industry growth," the Minister said.
"I congratulate all those involved in putting forward proposals and supporting innovative research and development for defence applications."
The successful applicants will use the funding to develop: a low profile body armour for better soldier protection (Amor Composite Engineering Pty Ltd (NSW)); a miniaturised wide-band, low-noise radio frequency antenna (CSIRO (NSW)); mobile x-ray imagers for use during field deployments and detecting improvised explosive devices (Micro-X Ltd (VIC)); a stealthy unmanned surface vessel to track submarines and torpedoes (Ocius Technology Ltd (NSW)); a tactile flight display that improves helicopter safety in poor visibility and threat environments (The University of Canberra (ACT)); technology to securely transmit three-dimensional geospatial data to ships at sea (The Australian Bureau of Meteorology (VIC)); and a low-cost, high-G centrifuge for simulators used in pilot training (Deakin University (VIC)).
The University of Canberra has welcomed the announcement that it will share in $14 million funding for a project to develop new instruments to be used by the pilots of Australian Army helicopters.
The University will work with the Adelaide-based, elmTEK Pty Ltd to produce this next-generation assistive technology which can be used in situations where personnel are facing threats or at times when low visibility could affect their safety.
"The TCS has the potential to provide helicopter pilots with accurate information regarding aircraft flight data, such as altitude, velocity, navigation, acceleration, and threat/target location. The rapid and instinctive response to touch allows the pilot to make the fastest possible response to a threat or changing environment," said Lead researcher Dr Braden McGrath.
"We are privileged to be awarded this contract and to be working with top Navy technology specialists and businesses in Australia. This A$3M contract provides extensive validation of our strategy to draw on proprietary technology for the development of long range, autonomous surveillance and sensing platforms. Specifically, it will allow us to develop a high performance Ocius Bluebottle Unmanned Surface Vessel (USV) coupled with an integrated Thales Australia thin-line towed array sonar system," said Dr Robert Dane, CEO of Ocius.