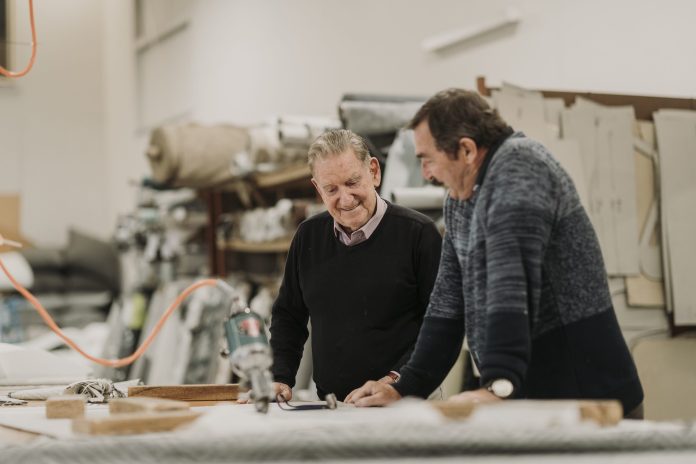 Media Release by Australian Made
This year is an exciting one for  and Australian Made Campaign licensee, Eaststyle Furniture. Not only is the company celebrating over 65 years of manufacturing Australian Made furniture, but 2022 also marks 90 years of life for the founder of Eaststyle Furniture, Geoff Eastmure.
Geoff, who turns 90 on the 27th March 2022, has made an outstanding contribution to Australia's manufacturing industry, crafting and producing furniture in various locations around Melbourne since 1955. "I have run my own furniture business, Eaststyle Furniture Australia, since 1955," said Geoff. "It has been such an honour to contribute to Australia's manufacturing industry and employ many hard-working Australians."
Eaststyle's range of stylish and innovative sofas embrace every dimension of furnishing fashion. From traditional craftsmanship to modern manufacturing methods, the team ensure that every furniture piece leaving the factory maintains its reputation for quality and elegance.
Australian Made Chief Executive, Ben Lazzaro, has acknowledged the enormous contribution that Geoff has made to Australia's manufacturing industry throughout his 90 years.
"The entire Australian Made team is thrilled to recognise Geoff's achievements on this momentous occasion," said Mr Lazzaro. "Geoff has been at the forefront of Australia's furniture manufacturing industry, and his contribution has paved the way for other Aussie manufacturers. Our local furniture manufacturers are recognised for producing high-quality pieces that withstand the test of time. Geoff and Eaststyle lead the way in this regard."
Whilst Geoff has done incredible things for Australian manufacturing, nothing has made him quite as proud as his family.
Mark Eastmure, Marketing Director of Eaststyle Furniture and Geoff's son, said, "We are so proud of the work my father has done throughout his 90 years. He has built a successful business from the ground up, employing a dedicated and enduring team of staff who have been with the business for as long as 30 years. Celebrating my father's 90th birthday will be a truly special occasion for our family."
Eaststyle Furniture has been a part of Australian Made Campaign since 2006, using the iconic green and gold kangaroo logo to proudly showcase its Aussie credentials.