Leading power and automation technologies company ABB has announced that it has installed the most powerful offshore converter platform in the world.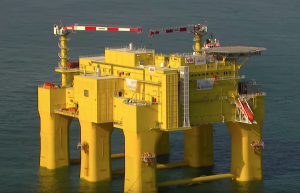 The 320-kilovolt DolWin beta – installed in the North Sea – has a 916 megawatts (MW) power transmission capacity, which is enough to power over 1,000,000 households with clean energy.
According to the company's press release, the offshore converter station is part of the DolWin2 project, which will be operated by leading European transmission system operator TenneT, and will connect offshore wind farms in the North Sea's DolWin cluster. The project includes the offshore converter station, the sea and land cable systems, and the onshore converter station.
"After the successful handover of the DolWin1 link in July, this is another key milestone in the execution of our offshore wind projects. It is a further example of our focus on relentless execution and of the ongoing progress in the Power Systems division's Step Change program," said ABB CEO Ulrich Spiesshofer.
The 23,000 tonne platform is 100 meters long, 70 meters wide and 100 meters tall. Built in Dubai, the DolWin beta utilises an innovative self-installing gravity-based structure (GBS) concept, "whereby the platform is slowly ballasted down to the seabed by filling the six columns with water, which will in the coming weeks be completely replaced by gravel to permanently secure the platform."
"Putting such a huge platform in place is one of the most delicate operations in the delivery of an offshore power link, requiring intensive pre-planning and cooperation between the stakeholders involved and we are pleased that this important project landmark has gone smoothly," said Claudio Facchin, President, ABB Power Systems division.