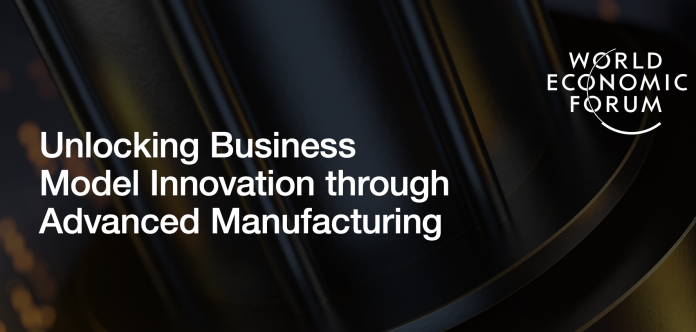 Feature Article by Natalie Macken
According to the Advanced Manufacturing Growth Centre, only 5% of businesses power 94% of the Australian manufacturing sector's entire capital layout, and 54% of its entire R&D spending.3  That leaves a lot of room for opportunity and a large segment of business ripe for innovation.
The CSIRO Futures Advisory stated that the manufacturing sector is changing rapidly, driven by changing trends and emerging technologies.2 To stay competitive and drive job demand, businesses must adapt to a new landscape. And for ultimate success, make effective use of investments in advanced manufacturing to optimise operating models, uncover new business models and compete on value, not cost.
In this context, all roads lead to the same space: start or ramp up a business model innovation approach now. Leverage advanced manufacturing to streamline operations and supply chains and look at value creation that's advantageous for customers, employees, the community and the environment.
Exceed Expectations
Manufacturing operations are no longer the cornerstone of business growth. Companies wanting to future-proof their business model will need to invest in technology to meet changing consumer sentiments. Along with a new landscape of demand, consumer needs are also shifting. The pandemic has exposed a shift in how customers choose, purchase and interact with products. How they define and rate smooth purchase, product personalisation, and frank product details have also evolved.
With the focus now on supply chain systems as the gigantic glitch in the global economy, customers want products supported by unprecedented levels of adaptability throughout the stages of manufacturing and logistics.
The green light
In addition to the complexities around demand and supply chains, climate change is now a critical consideration. Manufacturers need to take steps to reduce emissions and look at adopting circular approaches which include ways to reuse the resources used in production.
The CSIRO Futures Advisory asserts that resource scarcity and increasingly valued environmental and social credentials are encouraging manufacturers to look for more efficient and sustainable processes and operating models.2
Businesses need to look beyond the bottom line and instead, deliver new value that solves consumer, community or environmental needs. A global study reported by the CSIRO Futures Advisory stated that 59% of executives believe sustainability initiatives improve their growth.2
Innovation opportunity knocks
When it comes to advanced manufacturing, the majority of business models are still in the primary phase of digital modification. To remain relevant in an increasingly competitive environment, manufacturing companies need to look beyond the status-quo and double down on investments in advanced manufacturing to future-proof their operating and business models. This could include developing new revenue models, leveraging technology to tackle climate change disruptions, exceeding customer expectations and looking at ways to co-create new products through an ecosystem.
Change conventional industries at scale
Advanced manufacturing is a great way for businesses to introduce step-changes to operating models that then further enable innovations to business models. Businesses looking to unlock innovation can undergo three main stages on their transformation journey; point solutions, end-to-end digital infrastructure and integration and new business models.1
In the first stage, to increase productivity, pilot favourable point solutions, and roll them out over multiple sites. This may involve navigating unregulated processes, different data layering and technology, and deficiencies in digital expertise. Customised solutions and up/reskilling can be used to workaround these obstacles.
The Smart Industry Readiness Index can aid in assessing where manufacturers are in this first stage of transformation.
The second stage facilitates a seamless combination of end-to-end data flows and supply chain. This calls for investment in tech that's aligned with business strategy and often involves significant spending which can't be validated by a short-term return-on-investment (ROI).
The CSIRO Futures Advisory articulates that continual improvement and investment in R&D is the only way to remain competitive.2 Businesses who make the correct investments in this space will see an elevation in productivity and competence, as well as a pathway to new business models.
The last stage introduces insights from untapped data gained across the broader ecosystem. Transformation at scale makes way for business model innovation. And because there's no one-size-fits-all approach, the best road to innovation can involve investigating concurrent opportunities.
The terrain of transformation
Roadblocks are par for the course of innovation. There's no way around them but through them. To speed up transformation, employ these strategies.
Build alignment from the top down, and flag the necessary culture shifts. Be sure to build system-wide cooperation, scale the scope of collaborations and remain focused on the overarching purpose.
To measure success, use metrics that align with existing KPIs and fit all stages of change. Concentrate on closing the gap with digitally-minded businesses, and in the meantime – hone in on manufacturing strengths. Amplify customer experience and use a diversified supplier base to generate ideas for technology and product innovation.
Set clear goals upfront, rather than in hindsight, and work towards them throughout the transformation. Ensure business and supply-chain leadership work in collaboration.
The right questions
Curiosity is the cornerstone of innovation, so the World Economic Forum suggests that asking the right questions will accelerate change.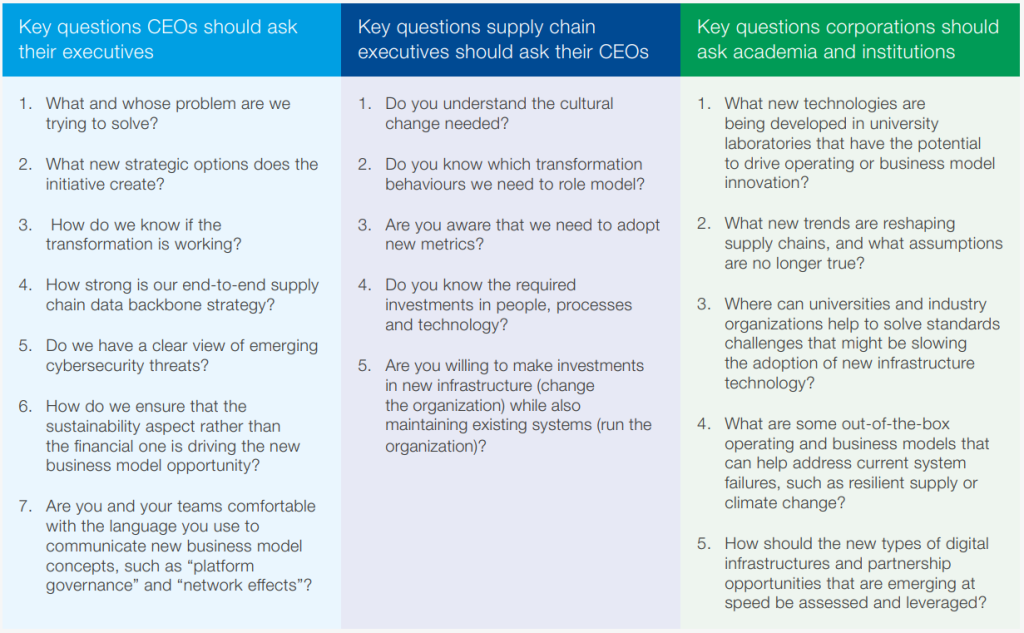 The growth mindset
All parts of the business ecosystem benefit from changing together; collaborate with everyone, from customers to community to competitors. In the end, companies that use the transformation of operating and business models to solve system failures will come out on top.
---
References
https://www.weforum.org/whitepapers/unlocking-business-model-innovation-through-advanced-manufacturing