Alcoa has announced that it is providing high-strength, aerospace-grade aluminium — 6013 Alcoa Power Plate — to Samsung for its new smartphones, Galaxy S6 and S6 edge.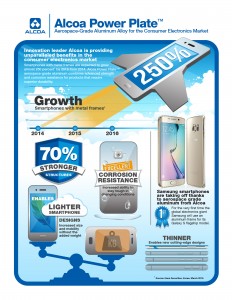 This is the first time Samsung will use an aluminium frame for its Galaxy S flagship model.
"When we designed the metal framed Galaxy S6 and S6 edge, it was important to find a strong yet light metal that would create a device capable of exciting our customers," said DJ Koh, CTO and Executive Vice President of Mobile Communication Business at Samsung Electronics.
"Alcoa's Power Plate is the perfect fit to create the phones that our customers want: thinner, lighter, and stronger."
According to Alcoa's press release, the Power Plate aerospace-grade aluminium – developed by Alcoa Technical Centre scientists – is 70% stronger than standard aluminium used in similar devices, thereby creating a thinner, lighter, sleeker design.
"Alcoa's Power Plate has been battle tested across aerospace, automotive and military uses, proving it can withstand the heavy use and tough treatment endured by mobile devices," said Ray Kilmer, Executive Vice President and Chief Technology Officer of Alcoa.
"Samsung's leading designers wanted to develop a thinner, sleeker device without sacrificing durability. Innovating with Samsung, Alcoa's metallurgists identified a solution that gives the Galaxy one of the strongest and most durable aluminium bodies available on the market."
Phones made with 6013 Alcoa Power Plate are now available globally.
Alcoa's announcement marks a further step in the company's strategy to move away from high-cost traditional smelting and refining and focus on more value-added businesses such as aerospace and automotive.
Other Alcoa consumer electronics solutions include ProStrength™, a proprietary surface finishing technology also using aerospace-grade aluminium for thinner, lighter and stronger mobile devices.
According to Hana Securities, smartphones with metal frames are expected to grow roughly 250% between 2014 and 2016.