Alcoa has opened its new jet engine parts facility in La Porte where it will manufacture significantly larger parts and components for a wider market.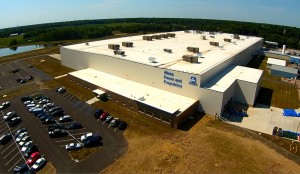 "Innovation is at the heart of the La Porte expansion," said Alcoa Chairman and CEO Klaus Kleinfeld.
"We combined some of the world's best metallurgists, product engineers and manufacturing experts to broaden our capabilities and deliver the highly advanced components our customers need to build jet engines at high volumes."
Not only does the new facility double the company's manufacturing capacity in La Porte, but it will also supply structural components for the PurePower® and other engines under a 10-year, $1.1 billion contract with Pratt & Whitney.
"The facility employs the latest in high-tech, advanced manufacturing equipment, including digital x-ray and blue light technology for enhanced quality assurance. It also 3D-prints resin patterns for metallic prototypes and uses automated casting furnaces with advanced controls to meet precise product specifications," Alcoa said.
A total of 329 new jobs will be created at the new manufacturing facility by 2019.
La Porte Mayor Blair Milo, Indiana Lieutenant Governor Sue Ellspermann, other state and local dignitaries and Alcoa executives attended the official opening ceremony.
"The City of La Porte is proud to celebrate this plant expansion with the Alcoa Team. This advanced facility grows our partnership with Alcoa and creates advanced manufacturing job opportunities for our community. We are excited to build on our partnership with Alcoa as it continues to enjoy growth and success," said Mayor Milo.
This is Alcoa's second plant opening in Indiana in just over a year. Last year the company announced the opening of its $90 million greenfield state-of-the-art aluminium-lithium facility—the largest in the world—in Lafayette, Indiana.
"Alcoa is building on our state's advanced manufacturing leadership, as well as providing increased opportunities for high quality careers for our community," said Indiana Lt. Gov. Sue Ellspermann.
"Alcoa is one of several aerospace companies choosing to expand in the Hoosier State, together announcing plans to invest more than $900 million and create more than 1,200 new jobs in the coming years."