The Australian Synchrotron has secured funding to continue its diverse research practices in the foreseeable future with the Federal Government's commitment to provide the facility with $520 million for the next ten years.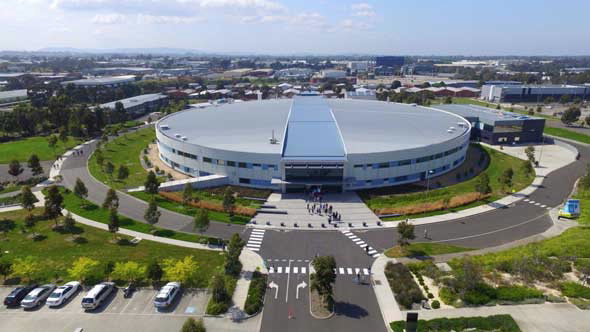 The Australian Synchrotron is a world-class national research facility that uses accelerator technology to produce a powerful source of light – x-rays and infrared radiation – a million times brighter than the sun.
The light is then channelled down beamlines to the facility's nine different experimental workstations, which allow materials to be studied from atomic to macroscopic levels.
The Australian Synchrotron supports a broad range of high quality research, with applications in sectors from medicine and nanotechnology to manufacturing and mineral exploration.
Dr Adi Paterson, CEO of the Australian Nuclear Science and Technology Organisation (ANSTO) – which operates the facility – said the funding would resolve the financial issues that threatened the immediate future of the research facility.
"Long-term funding secures this world-class facility, and will allow it to reach its absolute potential in terms of capability," Dr Paterson said.
"The Synchrotron will be able to thrive and deliver more outcomes for Australia in areas as diverse as health, agriculture and mining, assisting industry to solve complex problems."
Professor Andrew Peele, Director of the Synchrotron, said the stability provided by the Government's multi-million funding will have dual benefits for the facility.
"For many years now, securing ongoing funding has been a priority focus, and has held us back from being able to put long-term plans in place," said Professor Peele.
"Operational funding on this scale gives us the room we need to grow, to seek new partnerships, and to expand our beamline infrastructure to increase both the capacity and capability of the Synchrotron. This will make the Synchrotron not only a formidable science facility, but a true research hub."
Dr Paterson said the long-term operation and ownership of the Synchrotron will be transferred to the Federal Government through ANSTO.
"The Government's support for the Australian Synchrotron recognises the facility's importance and potential for industry," said Dr Paterson.
"ANSTO is custodian of some of Australia's most significant science infrastructure, and this is a huge vote of confidence in us, our record, and our capacity for delivering science outcomes for this country."