After much speculation, Australian shipbuilders look set to miss out on Government contracts to build Australia's $20 billion submarine fleet as reports emerged that the Abbott Government is determined to contract Japanese companies to deliver the fleet.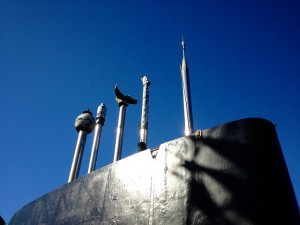 It is said that the Government's decision to build the fleet offshore is motivated by fears that the country would be left behind in an Asia-Pacific arms race, as estimates showed that a locally built submarine would be at the Navy's disposal by 2033-35, compared to 2025 if it was built overseas.
Defence Minister David Johnston's comments, that the Government was pressed to come up with a solution before the release of the Defence White Paper next year, were widely interpreted as confirmation that it had already decided to award the contracts to overseas companies.
"We are under such time constraints to avoid a capability gap and I cannot afford to not have submarines in the water," he told Sky News.
South Australia's Defence Minister Martin Hamilton-Smith dismissed Federal Government claims about time constraints, saying it was an attempt to distract Australians from the broader issue.
"The Federal Government said no decision has been made on the future of our submarines, but these statements by Mr Johnston only give the impression that a decision has been made," he said in a statement on Tuesday.
"It is clear that Mr Johnston is failing to listen to a growing list of defence and economic experts who have publicly stated that there is time for a project definition study, an open competitive tender and a considered decision on the future of our submarines."
Last month Retired Rear Admiral Peter Briggs AO and retired Commodore Terrence Roach AM sent a letter to Minister Johnston in which they expressed their concerns that Japanese-built submarines would not meet the requirements of the Australian Navy.
"It's slower and it doesn't go as far and that's perfectly reasonable for the Japanese situation, but it would be untenable for Australia's situation."
Awarding the submarine contracts to foreign shipbuilders would be in direct violation to Minister Johnston's pre-election promise that the fleet will be built locally.
"We will deliver those submarines from right here at ASC in South Australia. The Coalition today is committed to building 12 new submarines here in Adelaide," Minister Johnston said during his visit to submarine builder ASC.