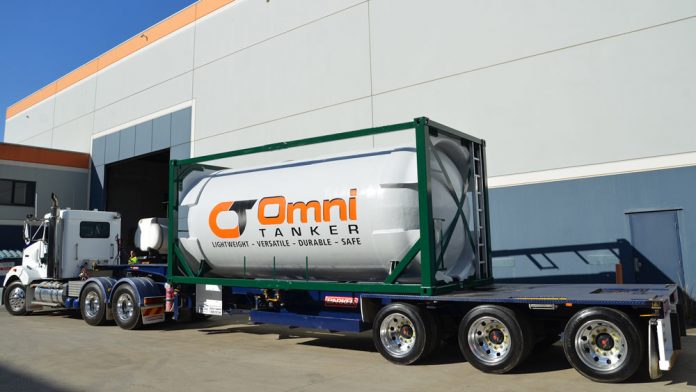 Australian carbon fibre composite technology company, Omni Tanker, has secured a $4 million equity investment from the Clean Energy Innovation Fund (CEFC) to scale up its business to meet international demand. 
Omni Tanker is an award winning company that manufactures specialised tank container and road tanker equipment using advanced composite materials technology.
The company's portable tank containers are up to six times stronger and 35% lighter then steel containers and  can transport a wide range of cargoes including corrosive liquids and high purity chemicals.
The combination of light weight and exceptional chemical resistance of Omni Tanker's carbon fibre tanks means transporting them requires less energy and produces lower emissions.
Moreover, unlike traditional rubber lined stainless steel tanks, which are dedicated to one product and generally carry goods in only one direction, the chemical resistance and easy washout of the OmniTANK's patented seamless thermoplastic interior means they can be two-way loaded, reducing asset down time and empty running, increasing the efficiency and capacity of transportation routes.
CEFC Executive Director Ben Gust said the investment will allow the award-winning company to contribute to lower emissions in the transport sector.
"This is an exceptional Australian technology, being manufactured in Australia and exported globally," Mr Gust said.
"We are very excited to be working alongside Omni Tanker as it scales up to revolutionise the transportation of corrosive and hazardous goods worldwide."
Omni Tanker CEO Daniel Rodgers said the company has developed a dominant market position for aggressive corrosive chemical tank haulage within Australia and is now exporting globally.
He said the company is also undertaking research and development on a variety of other tank transport applications and other industry opportunities from its platform technology.
"Globally we are seeing significant growth in the tank container market, and transporters and operators are all seeking new ways to improve safety and drive profitability. Our proven technology is compelling for users of transport tanks and we are scaling our production capability to meet the global demand," Mr Rogers explained.
"With this investment we will substantially expand our NSW manufacturing plant and invest in our specialist workforce, enabling a major increase in production capacity by 2020.
"We are also pursuing other avenues for the technology in collaboration with the University of New South Wales and other industry partners through initiatives including the UNSW centre for Automated Manufacture of Advanced Composites (AMAC) and the Australian Government's Advanced Manufacturing Growth Centre (AMGC)."
Image credit: https://omnitanker.com/