A new collaboration between the two leading Universities in Queensland and their European counterparts from the Netherlands and Germany will teach Australian students how to use 3D printing to fabricate living replacement body parts, reports ABC.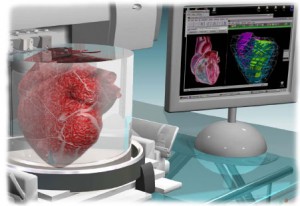 The collaboration between the Queensland University of Technology (QUT) and the University of Wollongong (UOV) on one side, and the University Medical Centre Utrecht and the University of Würzburg on the other side will provide a two-year Masters course in biofabrication to train the students how to use 3D printing to create living artificial tissues and biological tissue substitutes.
QUT's Biomaterials and Tissue Morphology Group leader Mia Woodruff said the Australian universities will take on 10 students each, who will spend their first year in Australia and the second year at their European sister universities while the European students will come to Australia.
"It's the first of its kind, it's a really unique Masters course because it's international and very cutting-edge, "Associate Professor Woodruff said.
"After two years we'll be graduating 40 students, all over the world, who'll be pioneering this 3D printing medical technology."
She said 3D technology provided an alternative to traditionally used artificial biomaterials, such as silicone breast implants and metal pins.
"Because 3D printing is becoming such accessible technology… people are starting to use 3D printing technology to process these biomaterials into three dimensional structures. We're able to add cells from the actual patients we're trying to treat, and that makes a three-dimensional living tissue," Professor Woodruff said.
The University of Wollongong is also collaborating with the St Vincent's Hospital in Melbourne and the Royal Melbourne Institute of Technology (RMIT) in exploring the use of 3D printing technology for manufacturing body parts.
Professor Peter Choong from St Vincent's said the technology could provide a very patient-specific approach in treating various medical conditions.
"Take orthopaedics for example… You can get bones from the bone bank, which is other people's bones, but sometimes this causes reactions or infections," he said.
"What this technique does is make it very patient-specific so you can build something to exactly match the defected part, and it does not carry the risk of transmissible disease."
He said the advanced technology in 3D printing and the medical research that had been done in Australia have placed the country in a strong position to make substantial progress in the development of the medical 3D printing industry.
"The other week we printed a heel … That's an example of how we're transferring science and research into practice," he said.
"This is a time when you can really bring the research together with focusing on clinical need and translating it and that's what we're doing here at St Vincent's; bringing together researchers, technology and industry to meet the needs of our patients."
The University of Wollongong's Stephen Beirne said biofabrication technology held the potential to allow the 3D printing of whole implantable organs in the not-too-distant future.
"There's numerous hurdles between here and there, but a very vague estimate would be 50 years," Dr Beirne said.