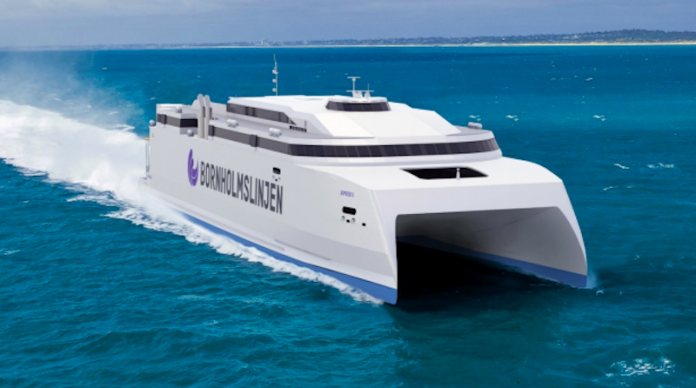 Austal has announced that its shipyard in the Philippines has commenced the construction of a newly designed 115-metre high-speed vehicle-passenger catamaran for Danish ferry operator Molslinjen.
The new ferry, which will be named Express 5 (Austal Hull 423), will be the largest ever by volume to be built by Austal, evolving from the design of the 109-metre high-speed catamaran Express 4 delivered to Molslinjen in January 2019.
In a statement via ASX Austal CEO David Singleton said the construction on Express 5 is a significant milestone for Austal Philippines and the Austal group as it demonstrates the successful global collaboration to improve the speed of build, flexibility, and management of workload across the Group during the COVID-19 pandemic.
"Molslinjen's Express 4, Austal Hull 393, was the largest we have built by volume in 2019. This year Fjord Line's FSTR, Austal Hull 419, has taken the crown as our largest vessel ever built and is progressing towards delivery in the third quarter of CY2020."
"Now, with Molslinjen Express 5, we're integrating the proven capabilities from our Australian, Philippines and Vietnam shipyards to improve competitiveness, reduce build times and maintain steady employment levels."
Express 5 will have capacity for 1,610 passengers, space for 450 cars over 2 vehicle decks, and an operating service speed of 37 knots. It is powered by an LNG-capable, medium-speed power plant that offers a powerful yet economic and environmentally-friendly solution. Its features include leather seats with USB ports, Wi-Fi, a full bistro and bar, a children's play area, and multiple audio-visual screens.
Molslinjen CEO Carsten Jensen said the company is looking forward to adding another Austal high speed catamaran to its fleet.
"Our valued customers tell us they have enjoyed the outstanding comfort and performance of Express 4, so we're very much looking forward to Express 5 joining the Molslinjen fleet and offering a superior on-board experience to even more of our customers," Mr. Jensen said.
Read the full ASX release here. 
Image: Austal