A British man has become the world's first patient to receive a 3D printed titanium and polymer- sternum thanks to the coordinated efforts by CSIRO, Melbourne medical implant company Anatomics and a team of UK doctors.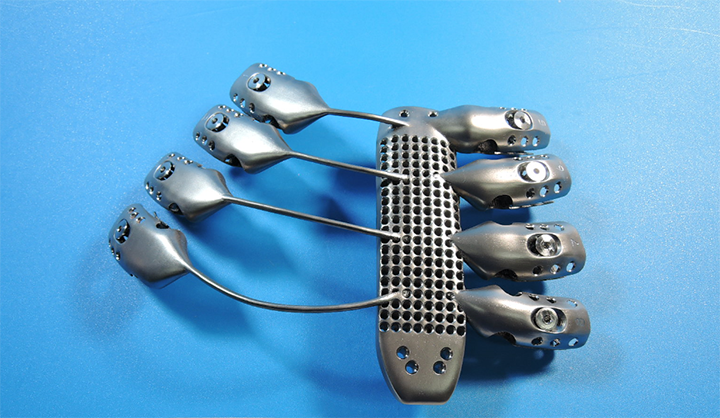 Designed by Anatomics and 3D printed at CSIRO's Lab 22 facility in Melbourne, the 3D printed sternum was implanted into 61-year-old Edward Evans, who had lost his sternum due to a rare infection.
Dr Keith McLean, Director of CSIRO Manufacturing, said this was the first time that a titanium sternum combined with a synthetic polymer have been used to replace bone, cartilage and tissue in a patient.
"I'm proud of our cutting edge work with Anatomics that has enabled patients around the world to regain the ability to walk, to sit-up and lead normal lives," Dr McLean said.
"Here in Melbourne, we have quietly been developing what we believe is one of the world's most advanced capability in reconstructive prosthetics, and this recent success in the UK demonstrates that."
Anatomics Executive Chairman Paul D'Urso said the successful recovery of Mr Evans once again proved that Australian innovators and manufacturers rank among the best in the world.
"For the first time, Anatomics, together with the CSIRO, has manufactured a 3D printed patient specific skeletal reconstruction with advanced composite materials," Mr D'Urso said.
"Mr Evans wonderful recovery testifies to the ability of Anatomics to reconstruct both the hard and soft tissues of the human body in a single prosthetic implant."
The operation is the latest success story for the CSIRO-Anatomics partnership. In 2015, CSIRO and Anatomics designed and manufactured a 3D printed titanium sternum and rib that was successfully implanted in a Spanish patient diagnosed with a chest wall sarcoma.