The Victorian Coalition Government has financially assisted IVECO Australia, Bombardier Transportation Australia and GlassCo Australia; all based in Dandenong, enabling them to capitalise on growth opportunities and boost competitiveness.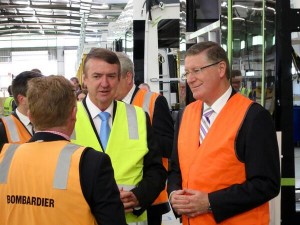 According to the media release by the Premier of Victoria, all three businesses were visited by Minister for Manufacturing David Hodgett who commended the companies for their extensive contribution to the manufacturing industry and their efforts to retain Victoria's highly skilled manufacturing workforce.
"Manufacturing in Victoria is in transition but remains strong thanks to the capacity and innovation of these diverse but important businesses. The Victorian Coalition Government has helped each of these businesses capitalise on opportunities to generate strong business growth in their respective sectors," the Minister said.
GlassCo Australia manufactures double- and triple-glazed units for the building and refrigeration industries.
In 2012, the Coalition Government awarded the company with a $250,000 grant from the $24.8 million Investing in Manufacturing Technology program (IMT) which is aimed at promoting the growth, productivity and international competitiveness of manufacturing businesses by stimulating investment in new technologies.
IMT is a major initiative under the Victorian Government's manufacturing strategy: A more Competitive Manufacturing Industry.
"GlassCo used our support to purchase a $1.5 million Automatic Insulating Glass Unit Manufacturing Line and ancillary plant and equipment that has helped the company increase its full-time staff numbers from 7 to 17. The new machine will enable GlassCo to increase its productivity, grow market share and reduce its dependence on imported products," the Minister said.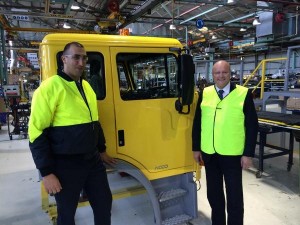 IVECO Australia is a leading manufacturer and distributor of light, medium and heavy commercial vehicles for the road transport industry in Australia.
"IVECO is the fifth largest seller of large commercial vehicles in Australia and manufactures 1000 trucks a year at its Dandenong South facility. It's also one of only three local manufacturers of its kind in Australia and employs 240 staff at its Victorian sites," Mr Hodgett said.
"The Napthine Government is currently assisting the company to develop a road train version of its Powerstar range of heavy trucks and to update its range of ACCO medium duty trucks."
Bombardier Transportation is the largest passenger rail rolling stock manufacturer in the world, with over 350 employees at its Dandenong facility and over 1000 employees all over Australia.
"In addition to building and maintaining V/Line's two and three-car VLocity trains, in 2010 the company won a $300 million contract to supply 50 new trams for Melbourne, with options for an additional 100 trams," Mr Hodgett said.
"The Victorian Government Business Office in Dandenong helped facilitate the completion of Bombardier's test track, which is essential for the company to be able to deliver new trams."