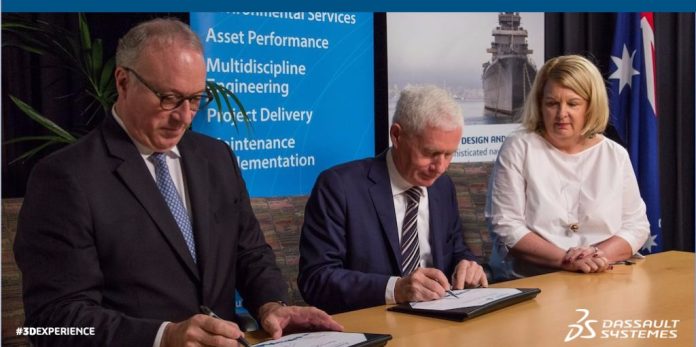 French software company Dassault Systèmes has signed an agreement with South Australian engineering firm LogiCamms for the so-called virtual shipyard program.
Top representatives from the company are currently visiting SA to discuss the so called virtual shipyard – "a digital project that maps and improves digital capability in order to maximise industry participation in large manufacturing projects, including defence."
Dassault Systèmes Executive Vice President Global Field Operations (Asia-Oceania) Sylvain Laurent said that SA's shipbuilders have to find new ways how to leverage the advanced technologies in the shipbuilding industry if they want to become key players in the local and international market.
"Dassault Systèmes is the technology partner of choice to accompany global industrial innovators on large-scale, long-term international projects. While we work with these innovators, it is also very important that we collaborate locally to organise an ecosystem that is using the same solutions to make sure we can sustain the evolution of the projects," he said.
"We are delighted to have the strong support from the South Australia Government to put together a marine and offshore program that illustrates the industry of the future in a sector which calls for highly integrated systems to deliver unique experiences to its clients. With many exciting opportunities in South Australia, we look forward to a successful and fruitful collaboration with the local industry."
The virtual shipyard program is used all over the world for the efficient management of project lifecycles.
"The South Australian Government has been working with Dassault Systèmes over the past six months to establish the digital capability baseline for potential local naval suppliers and explore the development of a structured industry capability learning program to digitise the state's supply chain to support the next generation of naval shipbuilding," SA's Acting Premier John Rau said.
Dassault Systèmes is a world leader in 3D design software, 3D Digital Mock Up and Product Lifecycle Management (PLM) solutions with 14,000 employees and global revenue of AUD$4.03bn in 2015.