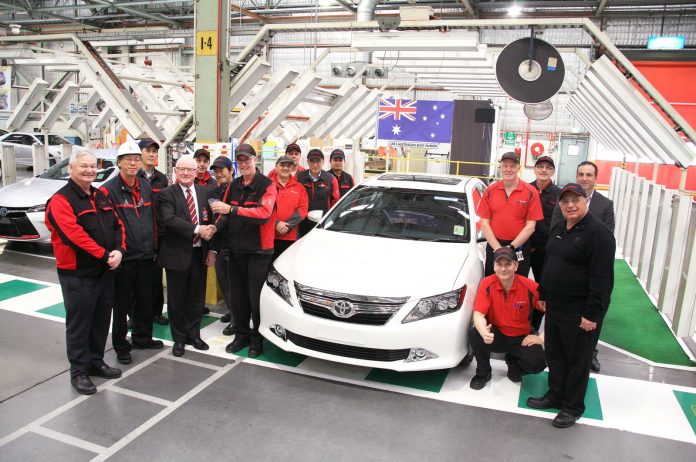 Toyota has discontinued production of the Aurion model at its Altona manufacturing plant after 11 successful years and over 180,000 sales domestically and internationally.
The vehicle, which was introduced at the 2006 Melbourne International Motorshow, was intended as the company's answer to the big-Aussie V6 family sedan and succeeded the Avalon as Toyota's largest family sedan.
Designed by current Toyota Australia design chief Nick Hogios, it featured what was at the time the most advanced and powerful engine ever offered in a Toyota vehicle in Australia – a new 3.5-litre Quad Cam V6 developing 200kW of power at 6200rpm and 336Nm of torque at 4700rpm on regular unleaded petrol.
Toyota said the final Aurion – a high-grade white Presara – was delivered to Melbourne-based Chadstone Toyota Dealer Principal, Graeme Ward, who was welcomed to Altona and met with the team that built the car.
"Despite the departure of the Aurion from Toyota's local line-up, Australian buyers looking for a six-cylinder V6 can rejoice as that engine configuration is confirmed in the line-up of the all-new Toyota Camry featuring an advanced direct-injection system paired with an automatic eight-speed gearbox set for release later in November," the company said in a statement.
"In line with what was previously confirmed, the final Aurions rolled off the line this month, with Camry Hybrid vehicles to follow in September and Camry Petrol vehicles in October."
Chadstone Toyota Dealer Principal, Graeme Ward, has taken delivery of final Toyota Aurion to be built by team members of Toyota's Australian Altona manufacturing plant.
Image credit: toyota.pressroom.com.au