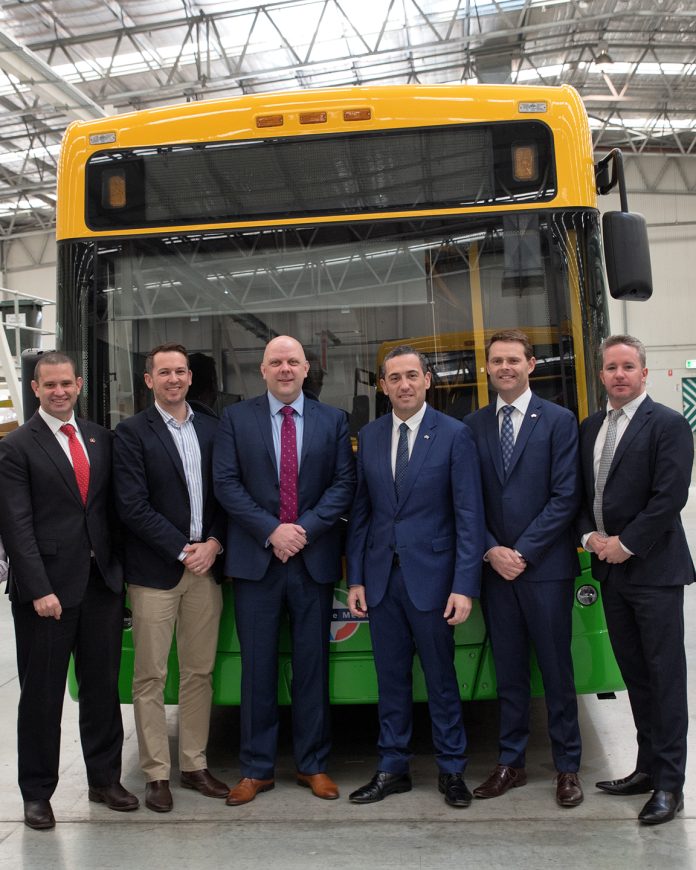 South Australian Premier Jay Weatherill has officially launched the first Australian designed, engineered and manufactured electric bus to be used on a public transport system in Australia.
The e-bus, which has a top speed of 80km/h and uses regenerative braking to extend battery range, utilises world-leading Toshiba batteries which can be charged up to 80% within just 10 minutes on a network with correct infrastructure.
It is one of two electric buses and two low carbon emission diesel buses being built by Precision Buses, a South Australian-based joint venture comprised of Precision Components Australia and Bustech, with specialist engineering, manufacturing and supply chain development support by ZF Lemforder Australia.
Precision Components Australia director Mat Fitch said the project – which is supported with of a $2 million Northern Economic Plan grant – had encouraged a resurgence of advanced manufacturing in Northern Adelaide with the impending closure of Holden.
"Our alliance with Bustech has focused our skills and expertise away from automotive manufacturing and into an exciting growth industry that has already created 29 jobs and is supporting local materials and suppliers," Mr Fitch said.
"Within six months Precision Buses has built wholly-Australian designed, engineered and manufactured electric buses and Euro 6 buses and they are rolling straight off the production line and onto Adelaide's public transport network."
Speaking at the official launch ceremony, Mr Weatherill noted that the project had also led to an agreement for an additional 50 low carbon emission diesel buses to be manufactured for supply interstate.
"The 50 additional buses are currently in build and will see both manufacturing operations and the supply chain developed over the next 12 months, with buses exported to New South Wales, Queensland and Victoria," the Premier said.
Manufacturing and Innovation Minister Kyam Maher said the project was a testament to SA's highly skilled automotive workforce.
"This project demonstrates how capable our automotive workers are, with skills that can be used in advanced manufacturing and other industries," the Minister continued.
"The closure of Holden is just four months away and the State Government is committed to supporting workers into transitioning into new roles and helping businesses to diversify."
Image credit: bustech.net.au