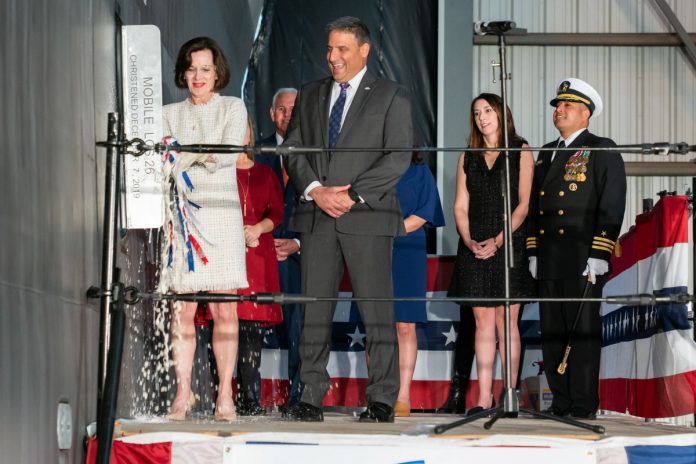 Austal USA has christened the 13th  Independence-class Littoral Combat Ship (LCS), the future USS Mobile (LCS 26), at a special ceremony held at its ship manufacturing facility in Mobile, Alabama.
Named after the City of Mobile, the vessel was officially christened by ships sponsor, Rebecca Byrne, President and CEO of The Community Foundation of South Alabama, and wife of Alabama Congressman Bradley Byrn.
Austal's CEO David Singleton said the USS Mobile was the 20th ship to be christened at the shipyard in the past 5 years.
"As Prime contractor, Austal USA is delivering two major programs for the US Navy, comprising a total of 33 ships, and it's even more impressive when you consider Mobile is the 20th ship they have christened in just 5 years," he said.
"The Austal USA shipyard has achieved outstanding productivity and efficiencies on both the LCS and EPF programs, and this is reflected in the progress on Mobile, which has been christened within 2 years of starting construction."
Austal, which has been contracted to design and manufacture 19 Independence-class LCS for the US Navy, has delivered 10 ships to date, with 6 currently at various stages of construction.
Image credit: https://www.austal.com/