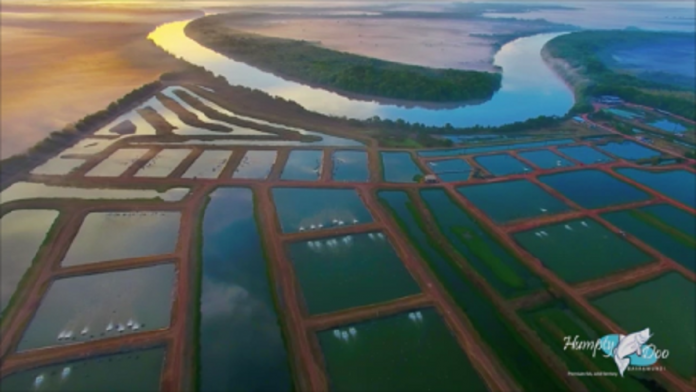 Humpty Doo Barramundi – a family owned barramundi farm near Darwin – has completed the first stage of its expansion in a move that marks the first opening of a project funded by the Northern Australia Infrastructure Facility (NAIF).
Supported through a $7.18 million NAIF loan, stage one of the landmark project involved construction of new saltwater grow-out ponds and construction of a specialised barramundi nursery to reduce predation by birds.
Minister for Resources and Northern Australia Matt Canavan congratulated the Richards family on the milestone, saying the expansion proved the value of the NAIF scheme.
"This is the first NAIF-funded project to be completed and we can expect to see even more outstanding employment and industry-growth results from projects supported through NAIF in the months to come," Minister Canavan said.
"Financing from NAIF meant the family could fast-track their expansion plans to create a bigger, better operation to deliver top-class barramundi to the dining tables of Australia. In doing so, they're doubling the number of their own employees to nearly 100 people and supporting another 20 jobs in trades and construction.
"The NAIF loan has allowed the operation to stay in the family's hands without the need for private equity or foreign investment. This project also shows that projects receiving NAIF loans are supporting real growth in jobs, investment and economic activity in Northern Australia."
CLP Senator for the Northern Territory Dr Sam McMahon said the expansion had cemented the farm's reputation as 'a world-class food producer.
"The Richards family has backed themselves to build their business even further, creating jobs and continuing a fine family tradition of employing Territorians and supporting the surrounding community," Senator McMahon said.
"Humpty Doo is already the largest barramundi producer in the nation and the fish now growing out in the new ponds will hit restaurants and retailers in about two years' time, creating even more jobs and revenue for the NT."
NT projects have to date been allocated more than $795 million in NAIF loan financing and conditional approvals for projects that will create north of 2,600 jobs.
Image credit: https://www.humptydoobarramundi.com.au/