Leading research-based pharmaceutical and healthcare company GSK Australia has opened a new vaccine plant in Boronia, Victoria.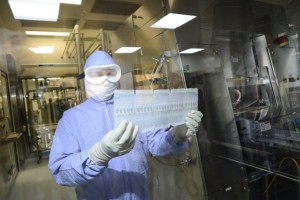 The new pilot plant is the result of a $7.7 million investment by GSK and a $1 million Federal Government grant through the Manufacturing Transition programme.
The new facility will be the first to commercially make a vaccine delivered through a blow-fill-seal technology – an efficient, cost effective way to manufacture high quality, sterile products.
"The opening of the facility is a significant initiative for pharmaceutical manufacturing in Australia. Putting a vaccine in BFS containers has the potential to  deliver the product in a more compact, robust container and it has a much smaller carbon footprint compared to the current methodology," Mr Geoff McDonald, VP and General Manager, GSK Australia said.
"Our industry operates in a highly competitive environment internationally, and Government grants such as the Federal Government's Manufacturing Transition Programme have an important role to play in improving Australia's attraction for investment. GSK and the pharmaceutical industry are significant contributors to the Australian economy and play an important role in building a strong, innovative environment, which provides economic benefits, exports and highly-skilled jobs."
In partnership with Monash University and global vaccine experts in Belgium, the local team in Boronia has developed a ground-breaking way to use BFS to manufacture a vaccine. This new ground-breaking method will be used at the new pilot vaccine facility.
"Australia boasts world-class research infrastructure and a strong pharmaceutical manufacturing capability.  These strengths make Australia an attractive environment for investment by the pharmaceutical and biotechnology sectors especially when paired with supportive government programs and policies," Mr McDonald added.
The site was officially opened by Assistant Minister for Science Karen Andrews.
Australia's pharmaceutical industry is the nation's second-largest exporter of manufactured goods. In 2014, Australian "medicinal and pharmaceutical products" exports totalled $2.923 billion.