HEGS Australia, SA's manufacturer of the famous "heg" – a clothes peg with hooks – has been named the 2015 Telstra South Australian Business of the Year.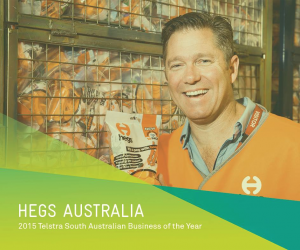 Inventor Scott Boocock wanted to find a permanent solution to the age-old problem of peg and line marks on clean washing. One day, as he was trying to hang his wife's black cocktail dress on the washing line, he came up with the idea of the "heg" – a peg with hooks.
He patented his idea in December 2012 and HEGS Australia is now an internationally recognised company with distribution in 18 countries and production at 53 million a year. The company has 50 employees and has its space-saving, dual-hook pegs assembled by Orana Disability Services.
"I wanted to make HEGS an example of Australian innovation and manufacturing. The product was created to solve the problem of peg, line and sun marks on laundry while the business was created to show the world the quality of Australian industry and to support local jobs," said Mr Boocock, founder and CEO of HEGS Australia.
"You can do it, you can do it local, and you can succeed."
The "heg" is currently available in more than 630 Australian stores and 10,000 supermarkets and camping stores internationally.
This innovative product will also be launched in Woolworth's stores in about six weeks, which will take the total to over 1,500 supermarkets in Australia and New Zealand.
Another winner of the 2015 Telstra South Australian Business Awards is Kent Town's Posture Podiatry, which has elite athletes and professional dancers among clients for its services for foot and lower leg pain.
Kalleske Wines from Greenock in the Barossa Valley – family-owned organic and biodynamic wine producers – and large-scale livestock enterprise Princess Royal Station from Burra were also 2015 Telstra South Australian Business Awards winners from regional South Australia.
"The four SA winners are brilliant and inspiring businesses that are being celebrated for innovation, industry leadership, creative use of technology and their contribution to the local economy. HEGS Australia is an innovative company with a great vibe and a serious passion for their business," said Will Irving, Telstra Business Group Managing Director and Telstra Business Awards Ambassador.
"The Telstra Awards judges praised its global planning on patents, noting it has a strong marketing presence in many different countries. Bringing back their manufacturing to South Australia from their initial venture overseas, they have created dozens of local jobs."
Winners of the Telstra South Australian Business Awards will now proceed to the 2015 Telstra Australian Business Awards that will be announced in Sydney on 20 August.
For more information about the "heg", please go to http://hegs.com.au/