Holden has confirmed its continuing commitment to V8 Supercars racing in the midst of the questions about its future in Australia.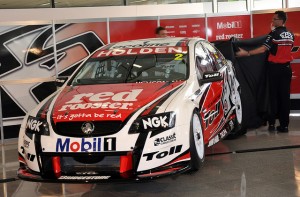 Despite the major vote held in South Australia last week in which Holden workers agreed to take a three-year pay freeze and lower conditions to help the company save $15 million annually, the future of Holden still hangs in the balance and depends on whether or not it could secure a co-investment deal with the government after the Federal election.
Speaking to the official website of V8 Supercars Holden Managing Director Mike Devereux says they remain committed to the sport.
"Racing is a natural for us, we are absolutely committed to V8 Supercars," said Mr. Devereux.
"I think we get good value from being involved in the sport and it is part of our DNA."
"The sport is looking fairly robust. There are couple of new teams in there that are showing up well, so I think the sport is pretty healthy."
Holden currently has multi-million dollar multi-year contracts with both the Walkinshaw Racing/Holden Racing Team and Triple Eight Race Engineering/Red Bull Racing Australia, according to the report.
The Holden Racing Team is the most successful V8 Supercar racing team in the history of the category, having won the drivers championship six times, and the series signature race the Bathurst 1000 seven times (1990, 1996, 2001, 2002, 2005, 2009, 2011). The team's current full-time drivers are Garth Tander, and James Courtney.
Meanwhile, Devereux commended the efforts of HRT's sister-team Walkinshaw Racing and chairman Ryan Walkinshaw for improving the performance of the Holden Racing Team.
"He has a great pair of drivers, the car is showing its mettle and improving every week. Ryan is an aggressive businessman, he plays to win, and I am proud to be his partner," said Mr. Devereux.
Holden's expression of commitment to V8 Supercars comes just as its competitor Ford debates on whether or not it will renew its sponsorship deal with its factory team.
In May Ford announced the closure of its two manufacturing facilities come 2016 and the killing of its Falcon nameplate.
Ford Australia CEO Bob Graziano said a decision regarding Ford Performance Racing would be made within weeks.