Holden has set an official date for the end of its manufacturing operations in Australia.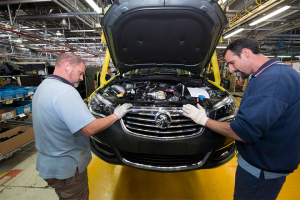 The carmaker, which announced its intention to close shop back in 2013, said the last car will roll off its Elizabeth plant production line on October 20.
Commenting on the company's announcement, Automotive Transformation Minister Kyam Maher shared his sympathies for all workers affected by Holden's departure.
"First and foremost our thoughts are with the workers at Holden, the supply chain workers and their families," the Minister said.
"Although Holden has always said production will cease at the end of this year, today is a difficult day for South Australia, workers and the automotive supply chain with confirmation the last car will roll off Holden's production line on October 20."
Mr Maher called on the Federal Government to prioritise releasing funds from its approximately $800 million Automotive Transformation Scheme to support Holden workers and help to create new industries.
"We continue to call on the Federal Government to support these workers with the urgent release of funding from around $800 million Automotive Transformation Scheme to help suppliers and workers and to create new industries," he said.
"The people of South Australia have been very loyal to Holden for more than half a century and Holden have an obligation to repay that. If Holden don't do the right thing over the coming months, I'm sure people will stop buying their cars."
The Minister also reiterated the State Government's commitment to help workers move into new employment and to transition supply chain companies through the Automotive Supplier Diversification Program and the Automotive Workers In Transition Program.
"Since Holden announced its intention to cease production, the South Australian government has worked hard to support workers to transition into training and new employment," Mr Maher continued.
"Services are available for each automotive supply chain worker to access career counselling, skills recognition and training to plan their future, while partners of workers registered at 'Drive Your Future' are also eligible to access support. To date more than 3000 individuals have attended information sessions and 1200 individuals have registered for the program."
The Minister also pointed out that up to $500,000 is available to automotive component manufacturing firms for corporate mentoring, diversification strategy and market development, and other expenses such as capital equipment.
"The State Government's $24.7 million Northern Economic Plan, released last year, is a blueprint for a prosperous northern Adelaide, focused on creating jobs and empowering local communities," he concluded.