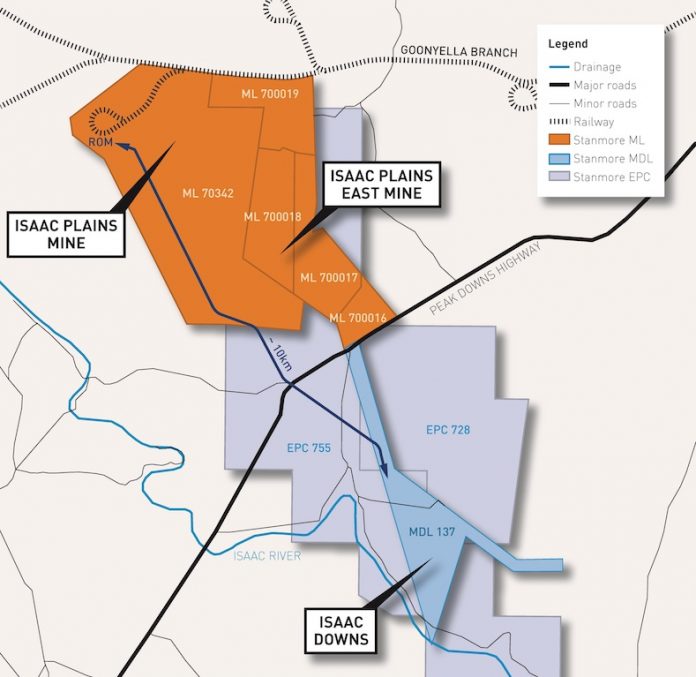 Stanmore Coal's $90 million Isaac Downs mining project is set to provide hundreds of jobs and a regional economic boost to Central Queensland, after it has been declared a prescribed project. 
Minister for Regional Development Glenn Butcher said the project would provide ongoing long-term employment for workers at the region's existing Isaac Plains Mining Complex and also create new jobs and economic growth.
"As we implement Queensland's plan to strengthen our economy in the wake of the global coronavirus pandemic, projects like this have the potential to play in important role for regional Queensland," Mr Butcher said.
"Pending all necessary approvals and Stanmore Coal's business plans, project construction could begin as soon as early 2021 with the mine possibly becoming operational in mid-to-late-2021."
The project is expected to employ approximately 250 people during construction and approximately 300 people during operations. In addition, there will be opportunities for local employment in construction, transport and the supply of goods and services, according to Stanmore Coal. 
The mining company estimates the economic contribution generated by Isaac Downs for the region will be $2.5 billion over its anticipated 16-year life, while a further $457.9 million is expected to be generated in economic contributions for the rest of Queensland.
Stanmore's CEO Craig McCabe welcomed the decision by Minister Butcher.
"The project will enhance ongoing employment and community opportunities in the local district in a business environment affected by COVID-19," Mr McCabe said.
"The prescribed project declaration will assist in securing timely approvals for the project, whilst providing high standards of environmental protection."
Meanwhile Isaac Regional Council Mayor Anne Baker also welcomed the announcement, calling it 'good news' for the Queensland and national economies.
"While the construction and operational phases are likely to see workers drawn from a wide area of Queensland, we look forward to seeing economic benefits flow for the Isaac Region as well."
"All mining projects must go through a robust and comprehensive assessment process but it is good news that this project is a step closer to coming to fruition."
The metallurgical coal project is located in the Bowen Basin, about 10 kilometres south east of Moranbah. It is expected to produce a total of approximately 35Mt of ROM coal over 16 years.
Image from Stanmore Coal