Arizona-based Local Motors, the company that unveiled the world's first 3D printed car – the Strati – has announced that it plans to get into the automotive industry next year and start selling 3D printed cars.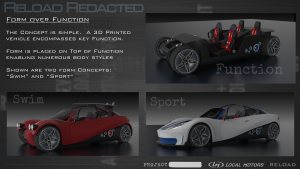 The company recently unveiled designs for the first consumer-ready 3D printed electric car after hosting an online contest through its community of engineers and hobbyists.
The winner of the contest was Kevin Lo, an engineer who works for Hewlett-Packard Co. making high-tech printers.
Mr Lo was awarded $7,500 for his 3D-printed car design which was selected by the Local Motors design community and a panel of judges that included former Tonight show TV host and car aficionado Jay Leno. His design will be the foundation of Local Motors' first 3D printed road-ready car.
"With more than 60 entries, the Local Motors community responded to the challenge to create a design for the highway-ready 3D-printed car. Kevin Lo has been a community member since 2011 and has participated in 21 challenges. His Reload Redacted – Swim and Sport was chosen by our panel, which included Local Motors personnel, automotive celebrities, university partners and you, members of our innovative community," the company said in a blog post.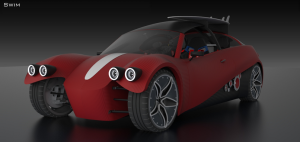 "In addition to its revolutionary design, the winning entry showcases the myriad of benefits of Direct Digital Manufacturing (DDM), including the ability to create a completely customisable vehicle. Lo's design also boasts a flexible foundation that can support many different styles and technology options."
The winner of the second prize was Jose Luis Varela with his "Outrunner" design, while Roventa Alexandru's Code Name: Orion came in third place.
Company sources say that the first model of Local Motors' 3D-printed vehicle will sell for anywhere between $18,000 and $30,000 for a low-speed neighbourhood car.