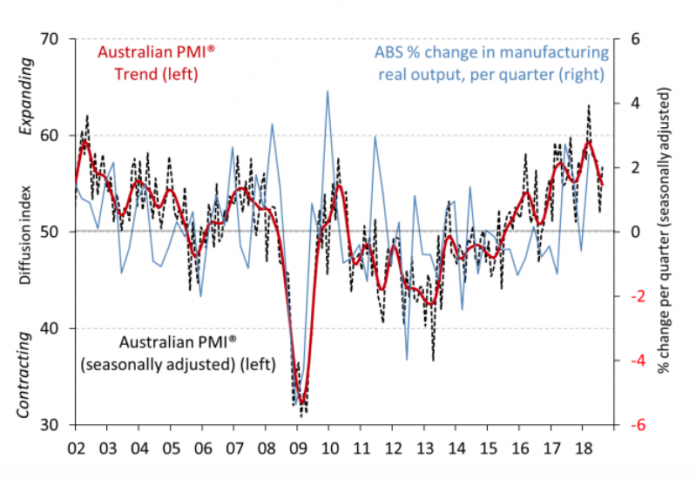 Ai Group's Australian Performance of Australian Index (Australian PMI) fell 3.3 points to 49.4 in June, bringing to an end 33 consecutive months of stable or positive results
The result marks the worst slump for the country's manufacturing sector since August 2016, with the combination of the housing construction downturn, a slowing in engineering construction, continuing drought conditions and slow income growth cited as key contributors.
According to Ai Group's report, of the seven activity indexes in the Australian PMI, only production (up 0.7 points to 51.9) and exports (up 2.8 points to 53.1) remained in expansion in June.
"The employment (down 5.5 points to 50.1), new orders (down 2.5 points to 49.8) and sales (down 0.8 points to 50.8) indices were broadly stable, while supplier deliveries (down 6.5 points to 47.1) and finished stocks (down 6.8 points to 44.0) contracted – possibly due to end-of-financial-year stock clearances," reads the report.
The survey also found that three of the six manufacturing sectors expanded in June (trend), led once again by food & beverages (down 0.4 points to 60.6) and building materials, wood & furniture (up 1.2 points to 62.0).
The metals products sector sliped further into contraction (down 1.7 points to 40.8), as did the small but diverse textiles, clothing, footwear, paper & printing products sector (down 3.2 points to 44.1).
On a more positive note, the average wages index rebounded by 4.2 points to 59.7 in June, indicating a faster rate of wage increases across the manufacturing sector.
Commenting on the findings, Ai Group Chief Executive Innes Willox said:
"While production edged ahead in June, both employment and new orders were flat at best and pressure on margins intensified as sell prices eased and input costs and wages continued to rise," Mr Willox said.
Manufacturers will be hoping that the combination of lower interest rates and personal income tax cuts translate into higher domestic demand over coming months. This reinforces arguments in support of the additional tax measures introduced in the last Federal Budget."
Image credit: www.aigroup.com.au