The Australian economy will be $21.5 billion smaller if the automotive manufacturing industry ceases to exist in the country in 2018, according to a new study commissioned by the Federal Chamber of Automotive Industries (FCAI).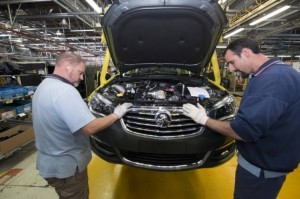 The economies of Melbourne and Adelaide would also be heavily impacted with significant job losses should the closure of car manufacturing come to fruition.
The economic analysis and research done by Monash University's Centre of Policy Studies and Allen Consulting Group will serve as the FCAI's basis for arguing for continued support for the car industry.
In a media release, FCAI Chief Executive Tony Weber said without Government support for automotive manufacturing, high-tech jobs and skills will be lost.
"I want to be clear: financial support for the industry is an investment in Australia and this investment needs to be long-term," Mr. Weber said.
"For that investment, Australians receive significant returns through direct foreign investment, employment, skills, training, technology transfer and research. And the investment also generates spill-overs that flow into other industries and areas of the economy. Without that investment, we lose these long-lasting benefits."
Mr. Weber also warned that without Government support significant foreign direct investment would cease and will compel overseas headquarters to allot their investments to other manufacturing countries.
According to the report, the Australian automotive industry receives around $500 million in Government funding each year. Calculated on a per person basis, the assistance amounts to only $18 per person, a figure comparatively low to international standards. The $21.5 billion return equates to $934 per person in benefit.
Should car manufacturing shut down completely, the report says Australia will be a very different place. Massive employment losses will occur in Melbourne and Adelaide, equating to some 33,000 and 6,600 job cuts respectively, by 2018.
Australia's gross domestic product would also be $7.3 billion smaller in 2018 (based on today's dollars).
Also, the report found that if barriers to export were removed and the Australian industry could return to 2008 levels of exports (when 160,000 vehicles were exported), Australia's consumer welfare would increase by $7.1 billion over time.
The report comes a week after the Productivity Commission officially started its in-depth study on the automotive industry.
The investigation focus on the industry's weak points, such as "international competitiveness, exports, workforce structure and practices, skills levels and long-term sustainability", as well as "the potential for Australian-made cars to be exported overseas."