NSW-based advanced composite manufacturer Quickstep is close to completing the first contract for its Qure technology after European aerospace composites manufacturer ORPE Technologiya successfully tested and accepted the Qure machine for installation at its premises.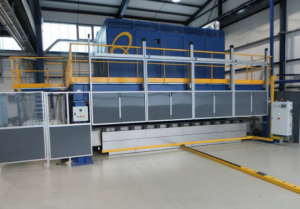 The machine – which was tailored to ORPE's specification and has successfully produced 6 metre by 4 metre carbon-fibre parts to be used to shield satellites during launch – is expected to be installed at ORPE's premises next financial year.
"We are pleased to report that the Qure machine has performed to the quality and specifications required by our client, and has been approved for installation," said Quickstep Managing Director, David Marino, adding that the deal is worth approximately $A6.2 million.
"This is a strong endorsement of our Qure technology which will lead to further aerospace industry opportunities for Quickstep."
The Qure technology is a unique, patented technology that moulds carbon-fibre components by using fluids instead of standard autoclave techniques. This technology significantly lowers the cost of manufacturing aerospace components and offers greater flexibility and more control over the curing cycle when carbon-fibre composite components are made.
Quickstep is a manufacturer of advanced carbon fibre composites for the aerospace and automotive industries.
Operating from state-of-the-art aerospace manufacturing facilities at Bankstown Airport in Sydney, NSW; a production site for automotive in Waurn Ponds, Victoria; and an office in Munich, Germany, the company is an approved supplier for the international F-35 Lightning II Joint Strike Fighter (JSF) program and has also been selected by Lockheed Martin as the sole supplier of composite wing flaps for the C-130J "Super Hercules" military transport aircraft.
In addition, Quickstep is partnering with some of the world's largest aerospace/defence organisations, including the US Department of Defence, Northrop Grumman and Airbus.