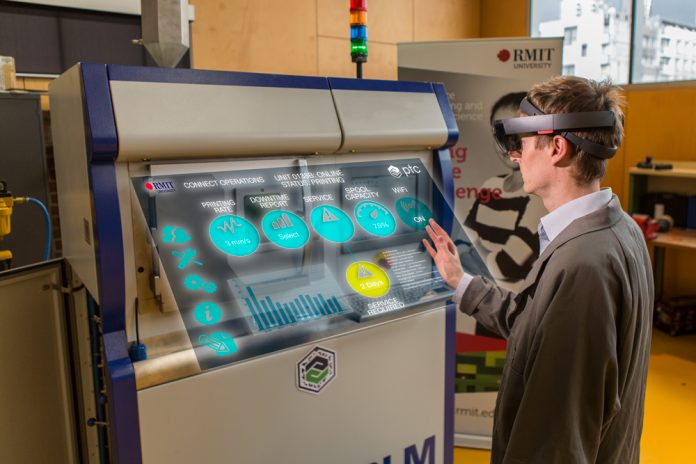 RMIT University, a leading member of the Australian Technology Network of Universities (ATN), has selected an IoT Solution developed by PTC to establish itself as an educational leader in the teaching and application of Industrie 4.0 skills in Australia.  
The move will see RMIT utilise the ThingWorx IoT Platform, Windchill software, and ThingWorx Studio technology from PTC to prepare students for the emerging fourth industrial revolution – a paradigm shift towards smart factories that merge cyber systems with physical systems.
As part of its digitalisation initiative, RMIT is also expanding its relationship with LEAP Australia Pty Ltd, a PTC value-added partner and a leading engineering software provider in Australia and New Zealand
As a key member of the ATN, which is recognised as a global leader of a new generation of universities focused on industry collaboration with industry relevant skills, RMIT University has identified an increase in demand for graduates with skills in Industrie 4.0, including the Industrial Internet of Things (IoT) and augmented reality (AR) for the enterprise.
Combined with simulation technology from ANSYS, the University is implementing the use of PTC technology across their engineering learning and teaching (L&T) framework.
"We foresee the insights from Industrial IoT data, combined with AR for in-context display, to be critical to the business transformations that will arise from Industrie 4.0 and have partnered with LEAP Australia, PTC, and ANSYS to help infuse this technology into our courses in the most effective way," said Pier Marzocca, professor and associate dean, School of Engineering (Aerospace).
"Our goal is to comprehensively expose all engineering students to state-of-the-art virtual prototyping and Industrie 4.0 tools, and ensure that they acquire new employability skills and competencies that are increasingly in-demand in our extensive network of industry partners."
RMIT will also be leveraging these new capabilities from PTC to expand its collaboration with local companies without sufficient resources to comprehensively harness the transformative nature of Industrie 4.0 for their business.
Greg Horner, managing director, LEAP Australia, said the university sees the potential for companies to use the real-time, real-world insights from Industrial IoT data to anticipate and address performance and maintenance issues more efficiently, even before they occur in the field.
"We see that the ThingWorx platform, with Industrial IoT, PLM, and AR capabilities, in combination with the ANSYS simulation platform already in use, will enable RMIT students and researchers to easily deploy comprehensive digital prototypes to analyse current operating conditions, rapidly identify and diagnose operations issues, predict future operating and maintenance requirements, and improve overall product performance," Mr Horner said.
"In an ever-changing industrial landscape, knowledge in Industrial IoT and AR and the potential of digital twin modelling is becoming an important differentiator for graduates in a competitive job market. A boost in the number of graduates with these Industrie 4.0 skills will also help to quickly improve the competitiveness of businesses in Australia and New Zealand."
Michael Campbell, executive vice president, ThingWorx Platform, PTC, said the evolution of manufactured products into smart, connected devices 'is radically reshaping' the way companies design goods and interact with customers, affecting many working roles within a manufacturing firm, and in turn, changing the educational needs of the next generation of engineers and designers.
"In discussions with RMIT, we agree that product development will shift from largely mechanical engineering to a truly interdisciplinary, systems engineering approach," Mr Campbell added.
"We are proud to partner with universities such as RMIT, which require highly-capable, open, and customisable Industrie 4.0 solutions that are both easy to learn and designed to be easily deployed across complex organisations."
Image provided