Forbes Marshall, a manufacturer of steam engineering and control instrumentation solutions, is crediting part of its success to its decision to switch to a 3D design process using Siemens PLM's Solid Edge software, a 3D design system from the company's Velocity Series. It features exceptional tools for creating and managing 3D digital prototypes.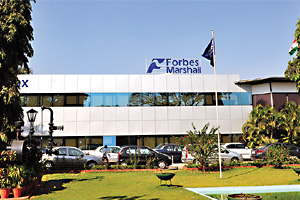 The India-based manufacturer has been racking awards and distinctions in the industry, including being ranked the fifth best place to work in India for the year 2013, the Manufacturing Innovation Conclave award for manufacturing innovation and design, and the award for good design from the India Design Council.
The company has previously faced challenges in its operations such as releasing accurate drawings on time, keeping track of revisions and reducing component injection rate.
Since switching from 2D drawing to 3D design using Solid Edge, Forbes Marshall has gained substantial benefits like better visualization and communication, increased accuracy, faster time-to-market and increased design efficiency by 60 to 65 percent. The company is also able to save 150,000 rupees per month and increased market penetration, ultimately improving its market share.
"Before using Solid Edge, we faced problems in releasing and keeping track of drawing revisions," says Yashwant Rajeshirke, senior development engineer, research and development (R&D), Forbes Marshall, quoted in a case study on Siemens PLM's website.
Yashwant says they previously kept track of revisions manually using Excel spreadsheets or hand written forms.
"It was a very difficult situation," he says. "Someone had to be assigned to check each drawing. We used to spend lots of time checking and re-checking. If a mistake happened after manufacturing of the components or assembly, it was very difficult to identify at which stage or during which revision the mistake was made."
The Forbes Marshall engineers selected Solid Edge from a number of computer-aided design solutions from various vendors. Specifically it was chosen for its ability to make design changes "on the fly" using synchronous technology, according to the case study.
"With Solid Edge, we have increased the efficiency of our design engineers by 60 to 65 percent," says Yashwant. "Now, we precisely track revisions and drawings. Our design engineers easily access each other's data. Concept designs are produced virtually and the designs vividly illustrate intent. We now have a common library of parts and product drawings. Our casting design process has been streamlined. Further-more, our drawing release turnaround has been substantially reduced.
"In business terms, Solid Edge has enabled us to significantly improve our best practices and product quality, increase vendor and customer collaboration, and save time and money."
For more information on Solid Edge go here.