The world leader of 3D printing and additive manufacturing, Stratasys, is one of the many exhibitors at this year's International Manufacturing Technology Show (IMTS) in Chicago.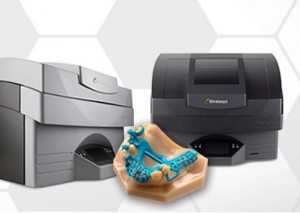 Stratasys is displaying at IMTS from 8–13 September in booths N-6144, C-819, and N-6390, where visitors can see two new 3D printers and a new 3D printing material, as well as examples of 3D printed production parts and learn how they augment traditional manufacturing processes and reduce cost and lead time.
Stratasys has announced that it is introducing the Objet500 Connex1 and Objet500 Connex2 multi-material 3D printers featuring triple-jetting technology at IMTS. Visitors will also be able to see the new thermoplastic ASA (Acrylonitrile Styrene Acrylate) – a new material option for the FDM process which has UV resistance for outdoor applications and produces FDM parts with an exceptional surface finish.
By now we are well acquainted with what 3D printing and additive manufacturing can do; however, a professional company like Stratasys, that has been literally spearheading the growth of the additive manufacturing industry, claims the best is yet to come.
Namely, Stratasys states that 3D printing, or additive manufacturing, is becoming the preferred choice for manufacturers, as it guarantees 40 to 90% reduction in lead-time and 70 to 90% cost reductions.
Additive manufacturing has been widely accepted and implemented as a production process by Stratasys customers to make custom manufacturing tools, such as jigs, fixtures, and moulds across a range of industries including automotive, aerospace, medical, and consumer products.
"We see constantly that manufacturing with 3D printing technologies is transforming how many products are made," says Gilad Gans, President, Stratasys North American Operations.
"Using 3D printers to create manufacturing tools can help companies create a leaner manufacturing environment, enabling them to quickly produce tools when and where they're needed to speed the manufacturing process and reduce costs."
3D printing can only "go up". Stratasys believes that "greater industry awareness of 3D printers' capabilities, advancements in materials, and increasing affordability will play a significant role in driving higher adoption by manufacturers worldwide."
If ever an industry had a bright future, its additive manufacturing.