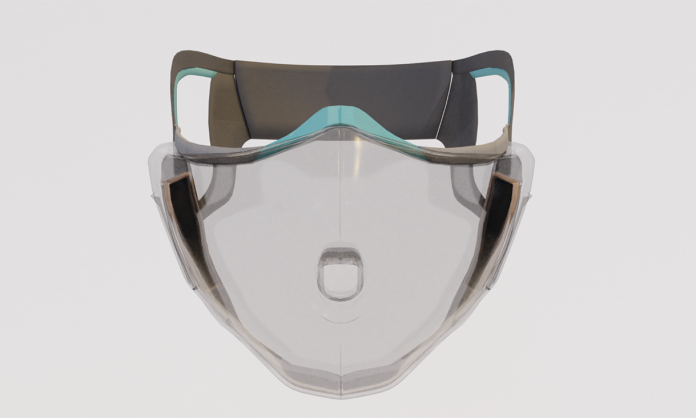 Media Release
An impending waste-crises from disposable masks has driven Arya Pawar to design a prototype next-generation face mask, which has been shortlisted in the global XPRIZE Next-Gen Mask challenge.
It's estimated that 129 billion face masks and 65 billion plastic gloves are generated every month of the COVID-19 pandemic.
Second-year Biomedical Engineering student Pawar developed 'Novus' as part of the $1M Next-Gen Mask Challenge, which aims to reimagine protective face masks.
Teams collaborated with industry partners 3M, Honeywell, Lydall, and Under Armour.
The Novus prototype mask's transparent design, rear-filters and sustainability focus saw it named in the top 25 teams from over 900 submissions.
A global survey from XPRIZE found there were 12 main barriers in wearing masks: they were too hot (53%), they fogged glasses (47%), difficult to breathe in (36%), uncomfortable (35%), hard to have a conversation (32%), difficult to exercise in (20%), hurt the face (19%), hard to eat or drink (18%), can't see facial expressions (15%), not ecofriendly (5%),  hard to get (5%), and they were ugly (5%).
This formed the foundation of the Novus teams' planning in June, where Pawar collaborated with Chandni Desai (Nirma University, Ahmedabad) and Vini-bbll Praveen Mehta (NAFA, Singapore) to brainstorm their next-gen mask.
The competition requires teams to address at least five of the defined barriers, but Pawar was determined to cover all of them.
"We looked at every single barrier and found multiple solutions, then we went and looked at which solution fitted best in terms of sustainability," Pawar said.
"One of the biggest issues we found with masks was waste management.
"Hundreds of millions of people around the globe are wearing masks, but where do they dispose of them?"
Pawar said he has witnessed first-hand the effects of plastic pollution.
"My home country, India, is seeing the major problems from waste and plastic pollution – especially after storms, major floods, and the resulting ocean pollution," Pawar said.
"Disposable face masks are only going to end up in one place – the ocean."
The cork filter in the Novus mask is biodegradable, with the team looking into more-sustainable alternatives using sugar cane mulch.
Measuring the surface area of a disposable mask in comparison to their cork filters, Pawar estimated their masks would produce eight times less waste per person annually.
The mask also features rear filtration to minimise transmission from one respiratory system to another.
The replaceable filters allow users to take them out while exercising to improve breathing, with a bite valve at the front to allow easier drinking.
The top ten semi-finalists will be announced on 9 November, with 50 prototype masks produced and tested in labs.
Image credit: www.rmit.edu.au