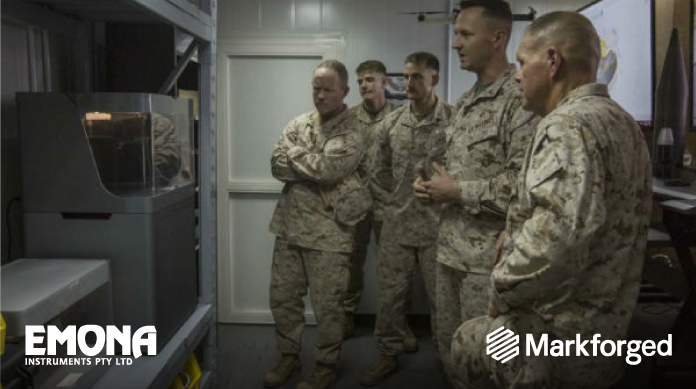 Sponsored Content by

It's no secret that 3D Printing accelerates innovation and effectiveness in a wide range of fields, from dentistry, prosthetics, product design, archaeology, forensic sciences and even palaeontology. But the technology's full potential is only just getting started in dramatically transforming the way we live and work.
In particular, 3D Printing is being deployed in a growing number of applications in the world's defence sectors. Militaries worldwide are utilising the incredible benefits of additive manufacturing applications across the world's Armies, Navies, Marines and Air Forces, specifically in countries like France, Britain, Germany, Japan and now Australia.
Although no other country has been so successful in adopting the technology like the U.S., "It's not necessarily the additive piece that solves one issue completely, but 3D Printing in general. The technology of 3D Printing enriches so many crucial steps in the design process that it makes production problems easier to solve", said Jordan Weininger, an Advanced Composites Engineer for the United States Air Force.
U.S. Military Overcomes Supply Chain Risks with 3D Printing
Ease-of-use is one of the most significant driving forces for why this new technology was so rapidly encouraged within the Military.
Additive manufacturing solves the many issues that the Military has within their unpredictable and complicated supply chain. Generally, military operations are located in very remote areas, where prior to 3D printers, the Military would have to wait six or more months to get a custom tool created, shipped and distributed successfully to them in the field.
But now, the Military can take portable industrial 3D Printers and desktop 3D Printers into the field along with a USB (of sorts) that carries hundreds of digital blueprints for parts that the Military may need to print.
With this on-demand print catalogue, the Markforged 3D printers can fabricate custom parts within 2-3 days, all without the operator needing specialised engineering knowledge as the printers and databases perform all the work. Now the Military has the ability to produce any type of custom tooling from specialised wrenches, fixtures, a simple jig, brackets, hinges, mounts and practically everything in between.
Another example of innovation can be seen within the U.S. Air Force, as the direct application of 3D Printing extends the life of aging aircrafts. Within the plane industry, it's common that original tooling is destroyed or misplaced, as a result making some aircraft models obsolete. Now the air force can create a 3D scan of an existing part and then backtrack to make a 3D printed model in order to keep aircrafts flying for longer.
From 3D Printing full-scale submarines in 4 weeks instead of 5 months to 3D Printing lightweight engine components and even 3D Printing massive concrete shelters in just 36 hours. The U.S. Military is well and truly showing the world how exponentially cost-effective, accessible and robust the power of 3D Printers can be.
Australian Army Trials 3D Printing in the field
Despite many successful applications of 3D Printing in the U.S. Military, in Australia the concept is still relatively new and has been explored much less until recently.
Since 2014 the Australian Military has made a string of small investments into 3D Printing technology, but this generated no significant successful outcomes. However, in February 2020, the Australian Military made a considerable commitment to the technology with a $1.5 million investment on a 12-month trial designed to test the feasibility of deploying 3D metal printers both on-base and in the field.
Within the programme, Australian soldiers are being trained in CAD software design and print, learning 3D printer operation, part post-processing, and testing. If successful, the trial will prove the technology's ability to print parts in a harsh and unpredictable environment.
As a result, significantly reducing the Military's footprint and accelerating on-the-spot repairs to damaged equipment, allowing soldiers get back to their main priorities on the battlefield. Overall, the Australian Army will be able to effectively enhance their existing complicated supply chains with the skills of their soldiers, allowing Australia to be future-ready with market-leading technology.
What's the Technology Behind this Success?
While other 3D Printing manufacturers may have connections with militaries worldwide, Markforged is the only company offering Additive Manufacturing technology in plastics, composites, and metals, ultimately serving all possible needs of the Military.
In particular, the Metal X is the leading industrial-scale 3D Printer model for Military applications, offering industrial-strength from patented continuous fibre reinforcement, unmatched from any other 3D printer. With the ability to produce strong parts quickly and at a low cost, Markforged Printers achieve high-resolution fabrications in both layer height – 50 microns – and x/y accuracy – 50-125 microns. In addition to world-class reliability, where 200 third-party customers reported a 99.5% print success rate.
The Metal X uses Atomic Diffusion Additive Manufacturing (ADAM), where the spool of metal material is made of metal powders bound with a polymer and a wax. The polymer allows the printer to wrap the filament up into a spool, heat it up through a nozzle, and then extrude three-dimensional objects.
The wax keeps the final part together, so the object holds the same construction through the whole spool, and no metal powders are exposed in the process. This ensures a safer printing process as hazmat suits are no longer required, as they are with traditional metal construction.
Not only did Markforged revolutionised the Military's supply chain processes and manufacturing challenges, but Markforged built an online Additive Manufacturing University to accelerate successful Additive Manufacturing adoption within the workplace. The University Programme offers dozens of courses designed to develop and strengthen critical Additive Manufacturing skills, from high-value application identification, design, end-to-end print management and business development.
Now with companies like Markforged printing composites and metals, these stronger and more useful materials open a whole new door for additive manufacturing. The high quality and incredible strength of 3D Printing materials changes the economic and technological choices available for all types of industries and businesses.
In particular, Militaries worldwide have utilised 3D Printers to make operations easier whilst in the field, reducing costs, extending the life and efficiency of important equipment and, most importantly, keeping our soldiers stay safe on deployments.
What are you waiting for? Find out how your business can start to benefit from the advanced technology of 3D Printing. Emona Instruments is the leading Australian reseller of Markforged Industrial 3D Printers and 3D Materials.
From Markforged Carbon Fibre Composite and Metal 3D Printer's printing in stainless steel, tool steel, copper and Inconel, through to Formlabs SLA 3D Printers printing resin. Contact the Emona team for more expert information and technical support on (02) 9519 3933, email testinst@emona.com.au or visit Emona Instruments.