Australia's Nextgen Group, a leading supplier of network connectivity, has signed a $100 million deal with French telecommunications provider Alcatel-Lucent and two major oil and gas producers to roll out a 2000 km undersea cable system between Darwin and Port Hedland.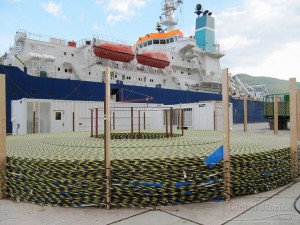 According to the press release by Alcatel-Lucent, the 2000 km undersea cable will run between Darwin and Port Hedland and will provide high-speed data and voice communication services for Inpex's Ichthys Liquefied Natural Gas (LNG) and Shell's Prelude Floating Liquefied Natural Gas (FLNG) projects located in the Browse Basin off North West Australia.
The Prelude and Ichthys projects will contribute equally to the construction of the system, which will be built by Alcatel-Lucent and will be owned and operated by the Nextgen Group.
As reported by The Australian, the lack of local expertise in this particular field will see Alcatel-Lucent global oil and gas General Manager Yohann Benard and his team of experts lead the project, which is set to kick off this month.
"Some of that manufacturing (of the cable) will not be done in Australia," Nextgen Chief Executive Peter McGrath said.
According to him, the cable would have primary and back-up links to insure uninterrupted data flow in case of cuts and would be able to carry vast amounts of video, voice and data compared with current satellite technology.
Ichthys Project Managing Director Louis Bon said the construction of the sub-sea infrastructure was an "Australian first" for private customers on the mainland.
"This is a great achievement for the Ichthys Project and an excellent example of what collaboration in the oil and gas industry can achieve," Mr Bon added.
"It means that both of these projects, far north of Port Hedland, will be connected to data centres thousands of kilometres away in Perth."
Shell Prelude Asset Manager Jim Marshall said Prelude FLNG's close proximity to Ichthys represented a significant opportunity for INPEX and Shell to achieve a better technical and commercial outcome.
"The sub-sea cable will give us a highly reliable and stable high-speed voice and data service which is essential for effective and efficient operations at our future offshore facilities," Mr Marshall added.
"It means that workers at Shell and INPEX will have an ultra-high speed communications link so they can stay in touch with their friends and families while working at offshore facilities. Our investment will also establish a valuable piece of infrastructure that has the capacity to support the development of future offshore resources in the Browse Basin."
The project is expected to deliver between 30 and 50 new jobs.