An Electrical and Electronic Engineering PhD student from the University of Melbourne has been awarded the prestigious Marconi Society Paul Baran Young Scholars Award for 2013, making him the first Australian to receive the honor.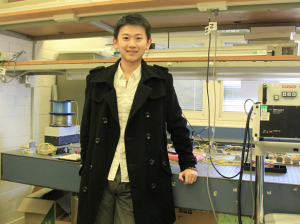 Desmond (Ke) Wang, who is in his final year in PhD, was recognized for his specialist work in optical-wireless technology, according to news from the University's website. Desmond is currently involved in research at NICTA, Australia's Information Communications Technology (ICT) Research Centre of Excellence, the largest organisation in the country dedicated to ICT research.
"Desmond has demonstrated an exceptional academic quality and independence in research," said Professor Christina Lim. Ms. Lim is one of Desmond's research supervisors at the University of Melbourne.
"He has an amazing capacity to understand and analyze complex optical theories and applies these theories in practical demonstration. In addition, he has developed excellent practical hands-on and strong experimental skills in the design, construct and development of optical subsystems and systems for his research work," added Ms. Lim.
According to the news release, Desmond's research involves optical wireless technology for ultra-broadband in-building communications and reconfigurable optical interconnects. He has received a number of conference awards for his work and he has also authored over 40 publications in top journals over the past three years.
"There's no doubt he will make significant research contributions in the years to come and will be a future leader in the field of optical communications," said Ms. Lim.
The Marconi Society is a premier organisation that recognises and celebrates the work of scientists, engineers and entrepreneurs in the field of communications science and the Internet.
The Paul Baran Marconi Society Young Scholar Award is given to individuals who have demonstrated exceptional engineering or scientific research and entrepreneurial capabilities at an early age, with the potential to create significant advances telecommunications and the Internet.
"In selecting its Young Scholar recipients, the Marconi Society looks for those who not only have shown extraordinary early promise, but whose research already has been published and made an impact ," says Robert Tkach, Chairman of the Young Scholar selection committee and a 2009 Marconi Prize Winner, in a press release.
"The 2013 winners exemplify these qualities."
The other winning researchers are Domaniç Lavery, a 4th year PhD student in the Optical Networks Group (ONG) at University College London (UCL) and Salvatore Campione, a PhD Candidate at the University of California, Irvine.
Desmond and the other winners will be honoured at the Marconi Society's annual gala on October 1 in Bologna, Italy.