The Oklahoma City Air Logistics Complex – a major US Air Force Base and worldwide manager for a range of aircraft engines, missiles, software and avionics – has announced that it is currently finalising a strategic plan to incorporate 3D printing technology in almost every aspect of aircraft design and maintenance.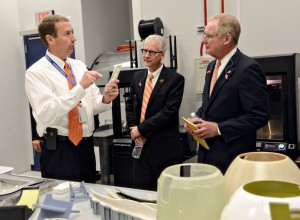 "We've realised that additive manufacturing is a technology that is mature enough, that it is being adopted very strongly in industry right now, and that we as a depot need to build this capability. This is a step-change technology that will really change in some ways how we can do depot maintenance. It will give us a lot of speed and flexibility, but it's something that we have to learn to manage and understand how to use," said Dr Kristian Olivero, the complex's top scientist and engineer.
The new plan is part of the Air Force's "Complex of the Future" strategic forecast, which included several goals to fully integrate additive manufacturing technology within the next 20 years.
This approach is set to change the way aircraft is maintained, as replacement engine parts could be printed on demand at repair sites instead of being shipped to the depot using laser mapping and other techniques.
With 3D printing, outdated and existing parts can be reverse engineered, and even improved, for aircraft that use parts that are no longer manufactured.
"The speed of it and the flexibility of it will very much improve our industrial base, where we're repairing aircraft that are getting older and older. We have more and more instances of parts that we can't get. All of this will help us be a better logistics centre," Olivero said.
According to him, additive manufacturing also has disadvantages in some cases.
"Some jet engine components must withstand extremely high temperatures and physical stresses. Parts milled traditionally from a block of forged titanium, for example, tend to have better molecular properties for that job than an identical 3-D-printed titanium part," Olivero said.
"For metals in particular, the additive manufactured properties are typically somewhat lower, so what you gain in speed and flexibility, you lose some mechanical properties. You can get good characteristics compared to 10 or 20 years ago, but it's not as good yet."
The strategic plan is scheduled to be completed in the coming months and will cover questions such as how to build engineers' expertise with 3D printing and what to do with the 3D computer models that will be created.
"We know how to manage 2D models. We have files of paper drawings. We have technical orders with drawings in them. Now we have to figure out how to store, classify, maintain and configure all of those 3-D models," Olivero said.
"It's a completely different paradigm. There are new challenges, new processes and new capabilities, and we need to work out how to make all that work together for our benefit."
According to Jamie Gilbert, the OC-ALC industrial process authority, the biggest challenge is going to be changing the mentality of the engineering and technician workforce because most of them aren't used to additive manufacturing and working with 3D models to manufacture parts and to design repairs.
"Even many of our young engineers who were just out of college four or five years ago, it's mostly new for them," Gilbert said.
"We're going to have to learn how to incorporate it and insert it into our manufacturing machine."