PM Tony Abbott officially opened the first of several advanced medical facilities of what is to be the largest health and bio-medical precinct in the Southern Hemisphere in Adelaide.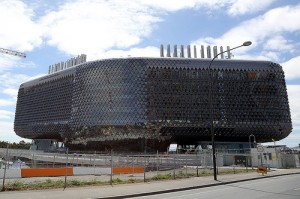 The South Australian Health and Medical Research Institute (SAHMRI) is part of the new $3 billion health and biomedical precinct in Adelaide's North Terrace and will house the country's leading 600 researchers who will be working together to find cures for some of the world's most challenging diseases.
According to the media release, the multi-billion project will finance a vast building operation of hospitals, universities, medical schools and research centers clustered together to work closely on translating academic research into cures and treatments. The project will attract highly skilled workers and millions of dollars in research grants to the state.
The newly-erected SAHMRI building is set to be joined by the new Royal Adelaide Hospital in 2016, as well as a second SAHMRI research building and two medical research and training facilities, which will bring together a partnership between the Federal and State Governments, the University of Adelaide, Flinders University and the University of South Australia, and various prominent organizations including the Commonwealth Scientific and Industrial Research Organization (CSIRO), Australian Cancer Research Foundation, Cancer Council SA and others.
The Australian Department of Health will also play an important role in the project, with a specific goal of applying and delivering the research outcomes in the community.
The new project will see leading researchers from all over Australia working together under the same roof, which is a model that is unique in Australia. The research will be concentrated on several research themes which include Aboriginal Health; Cancer; Healthy Mothers, Babies and Children; Heart Health; Infection and Immunity; Mind and Brain; and Nutrition and Metabolism.
According to the Executive Director of SAHMRI, Professor Steve Wesselingh, SAHMRI will be the core institution for medical research in South Australia and in the country.
"SAHMRI will be a vibrant, globally recognized research institute which harnesses dynamic collaborations to deliver tangible health outcomes and community impacts not just in Australia, but across the world," Prof. Wesselingh said.
Meanwhile South Australian Premier Jay Weatherill calls the centre a "symbol of our ambition for South Australia".
"With state-of-the-art laboratories and equipment, scientists and clinicians will work together there in search of better treatments and cures for some of our most challenging diseases," said Mr. Weatherill.
"Across the whole health and bio-medical precinct – which will include the new Royal Adelaide Hospital and two new University of Adelaide and University of South Australia facilities – thousands of staff will be employed. They will be working in the high-tech jobs of the future and their presence in the precinct will provide an injection into the city's economy and vibrancy – transforming the West End of the city."