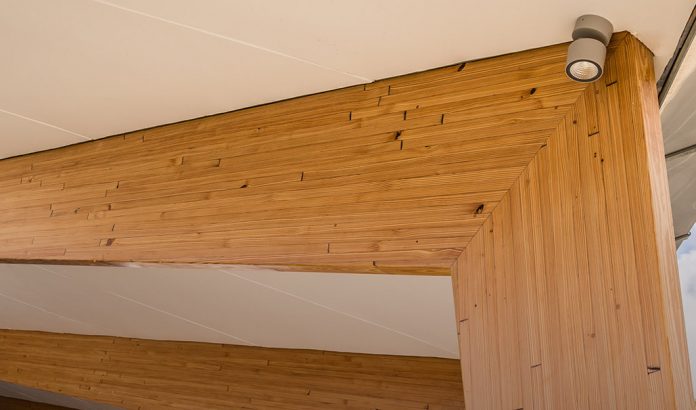 Timber products company Hyne Timber has unveiled its new $23 million Glue Laminated Timber (GLT) plant which was built with support from the Palaszczuk Government's $175 million Jobs and Regional Growth Fund.
The new plant will focus on the large-scale production of glue laminated timber that has applications in the residential and mass timber commercial construction markets.
GLT is widely used in the construction industry because of its strength and flexibility. According to Hyne Timber, large GLT members can maintain load-bearing requirements during a fire event. In case of fire, a thermal breakdown process happens and a layer of charcoal forms on the timber's surface, which acts as an insulator that protects the inner core. Timber is also a comparatively light building material that can be prefabricated, which helps reduce labour cost on site, and contribute to a safer and quieter construction site.
State Development Minister Kate Jones, who opened the timber processing facility, said Hyne Timber's state-of-the-art GLT processing plant was a job generator and a game-changer for the building and construction industry.
"Major construction projects are vital to rebuilding our economy and creating local jobs into the future," Ms Jones said.
"Construction of this factory has supported around 80 jobs. Once it's fully operational, this new processing plant is tipped to create more than 40 local jobs."
"This is a Queensland company that is partnering with the government to create jobs for locals when they need them most."
"This project will help to grow their business and their capacity to create more jobs in regional Queensland."
Meanwhile Hyne Timber CEO Jon Kleinschmidt said the new plant represents innovative, sustainable and quality construction.
"Local production of engineered timber is a growing market here in Australia and is a natural extension of our extensive experience in the timber business," Mr Kleinschmidt said.
"Glue laminated timber such as our new LGL Plus will be a welcome option for residential and mass timber commercial construction projects as it is cost effective and high strength with clear glue lines resulting in superior appearance."
"It is all sustainably grown and certified Queensland plantation pine, manufactured at our Tuan Mill near Maryborough before being glue laminated at the new plant."
Read the full media release here. 
Image: Hyne Timber Website