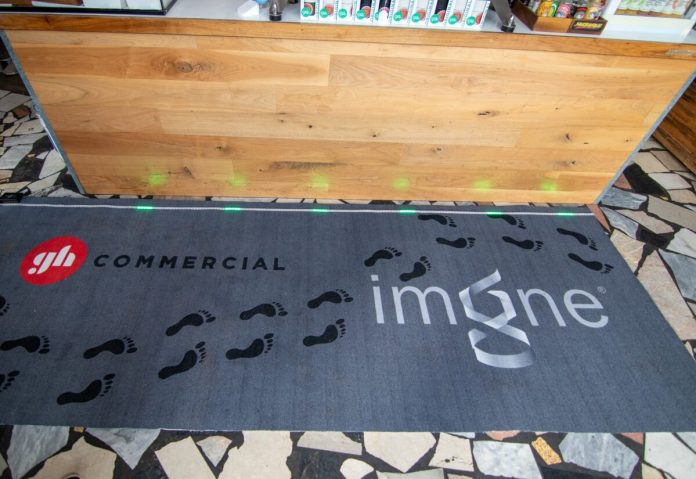 Geelong-based Australian tech company Imagine Intelligent Materials, which specialises in advanced material technology using graphene, has developed a smart floor mat that is able to communicate to consumers their precise distance from one another, providing a timely solution to establishments implementing social distancing. 
The 'On-Q-Mat' uses state-of-the-art-technology based on a simple "traffic light" warning system, where everyone understands that red means 'stop' and green means 'go'.
In a press release CEO and Chairman of Imagine Chris Gilbey said social distance is critical to controlling Covid-19, and On-Q-Mat gives consumers precise, immediate feedback about how far apart they are.
"We wants to see how consumers react to the mat and the traffic light system: it's a very simple looking solution that has been years in development. We want to understand whether this simple system can make businesses, cafes and buildings in general, places that people will once again want to go to and feel safe in."
"We are starting active consumer research to the extent that is possible in a lock down environment, so that we can use the feedback to make changes quickly and then move into fast track major production."
Founded in 2014, Imagine is the lead industrial partner in Graphene Certification Labs, based at Swinburne University and was also the first Australian company to build a commercial scale graphene manufacturing capability. The company worked with another local Geelong business GH Commercial to develop the surface materials for the smart mat to deliver a totally Geelong manufactured product. The special graphene sensing materials developed by Imagine monitors pressure, enabling management of people in queues, crowds or anywhere where people gather in numbers.
"We believe On-Q-Mat will be a life saver for Aussie small businesses right now. This looks like a first small step. But we have already installed flooring systems in Europe using the same technology to enable better management of offices. The important focus for us right now is to help Australian businesses whether they are retail, medial facilities, offices, aged care and beyond, become safe."
"We need viable solutions which can help us right now. On-Q-Mat should give business owners and everyday people, including customers, confidence that there is a path to peace of mind," said Mr Gilbey.
Image from Imagine Intelligent Materials