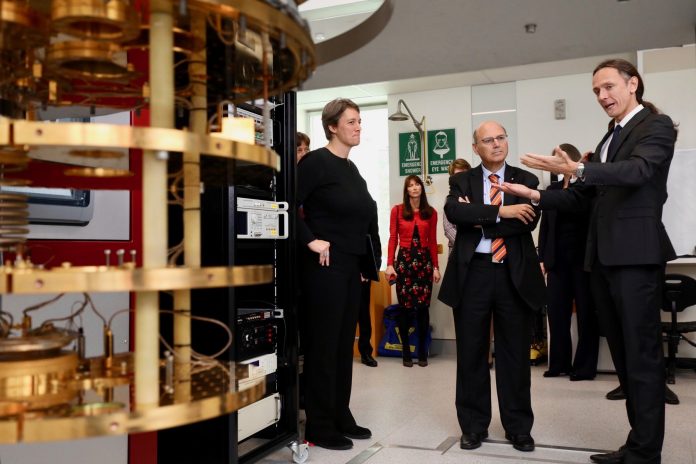 Minister for Industry, Innovation and Science Arthur Sinodinos has announced the opening of a new Australian quantum computing company, Silicon Quantum Computing, tasked with the challenge of building a fully-fledged quantum computer.
Speaking at the official launch ceremony, Mr Sinodinos the Australian Government through its National Innovation and Science Agenda is investing $25 million over five years in the company to produce a prototype quantum computer chip—the first step in building a fully-functional quantum computer.
"Quantum computers are expected to transform the way we live, work, and do business over the coming decades—creating new jobs in new industries not even imaginable today," the Minister said.
"If Australia wins the global race to build a functional quantum computer, it will create new industries and job opportunities across our economy."
The University of NSW has also supporting  the company with a $25 million investment, the Commonwealth Bank of Australia and Telstra are providing $10 million each, while the NSW Government will also support this ground-breaking research by investing $8.7 million.
Mr Sinodinos said these investments were on top of previous government support for the technology and the Commonwealth Bank of Australia's $4.14 million prior investment in the sector.
"The power and potential of quantum computing is game changing—quantum computers are expected to exceed the combined power of all the computers currently on Earth," the Minister continued.
"They have the potential to solve, in a matter of hours, complex problems that would take a digital supercomputer more than a lifetime to achieve. This is going to offer enormous advantages for a range of sectors, including finance, security and transport."
He said Quantum computing would help shape how we deal with health, our living spaces, our businesses, our transport systems, our financial systems and our whole economy and way of life.
"The transformative impact of quantum computing will be particularly relevant in the healthcare sector," Mr Sinodinos remarked.
"Instead of waiting for years, personalised medicines could be made available very quickly, saving not just time, but, importantly, lives."
Image: UNSW Professor Andrea Morello and Silicon Quantum Computing director Professor Michelle Simmons describe the operation of a cryogenic dilution refrigerator to the Minister for Industry, Innovation and Science Arthur Sinodinos at the UNSW quantum computing laboratory.
Image courtesy cqc2t.org