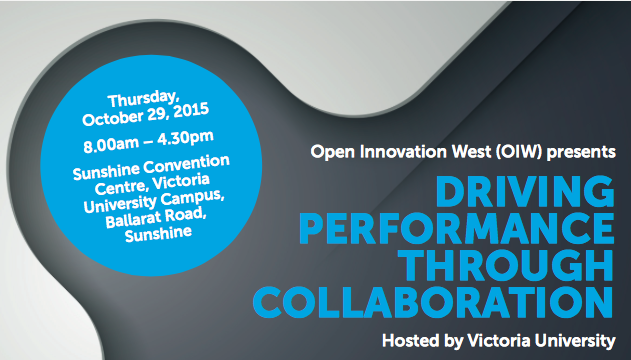 Tickets are selling fast for 'DRIVING PERFORMANCE THROUGH COLLABORATION' hosted by Victoria University and held on the 29th of October. 
The inaugural Open Innovation West Conference brings together industry experts and manufacturing leaders from the region, providing delegates with valuable insights into the 'how to' of increasing innovation in their business, along with learning about new models and approaches that will contribute to increasing productivity and performance.
Minister for Industry, Energy and Resources, the Hon Lily D'Ambrosio MP will officially open the conference, followed by keynote presenter, Nils Vesk, Innovation Architect. Nils will help take your ideas out of their hiding places, identify the ones with the most potential and give them the right foundations for success.
Hosted by Victoria University at the Sunshine Convention Centre, the conference is a great opportunity to hear from inspiring speakers, engage with your peers in a collaborative environment, and network with industry representatives, government and universities.
Following keynote speaker Nils Vesk, delegates can look forward to an interactive panel discussion with industry leaders from Melbourne's west. Each participant has their own unique story and insights to share.
CLICK HERE FOR THE OIW CONFERENCE PROGRAM
ENQUIRIES:
Karin Grima, Project Manager, Open Innovation West Ph 03 9317 5794
COST: Early Bird Bookings ($200)
Post Early Bird Bookings ($250)
Student Tickets ($100) with Student ID
Australian Manufacturing readers can use the following link for Discounted Tickets.