Shipbuilder Austal has reported record revenue of $1.41 billion for the year ended 30 June 2015, the company's best result in its 27-year history.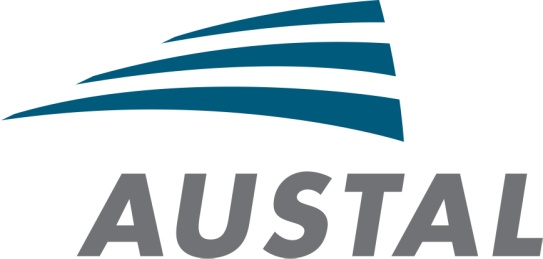 In a press release, Austal said that the Net Profit after Tax (NPAT) of $53.2 million, which is a 66.8 per cent increase on FY2014, was a result of the ramp up of its US operations.
Chief Executive Andrew Bellamy said the shipbuilder had reported record revenue and record earnings by delivering on vessel programs across its three shipyards in Henderson, Alabama and the Philippines.
"Austal performed well on our US Joint High Speed Vessel contract, and we were able to generate strong earnings from our Australian operations through efficiency improvements on the Cape Class Patrol Boat program. This offset the anticipated margin pressure on Littoral Combat Ship 6, which was the result of the lack of design maturity on our first vessel as prime contractor," Mr Bellamy said.
"We generated strong cash flow with $110.4 million in operating cash flow for the year, growing our cash holdings and underpinning the resumption and increase in dividends. With LCS 6 now delivered, we are applying our experience from that vessel to the remaining nine ships being constructed under the US$3.5 billion contract. We expect this to drive further efficiencies and margin growth, similar to the improvement in financial performance on the Joint High Speed Vessel and Cape Class Patrol Boat programs as those contracts matured."
According to the press release, in Australia, Austal delivered greatly improved earnings because improved efficiencies on the $330 million design, build and in-service support CCPB contract were realised. Segment revenue was $211.8 million (FY2014: $241.9 million), with EBIT of $31.8 million (FY2014: $16.7 million) at an EBIT margin of 15.0 per cent (FY2014: 6.9 per cent).
"In Australia, we are making good progress on the two High Speed Support Vessels for the Royal Navy of Oman and will continue to target new domestic and export defence vessel contracts to expand our order book. This includes extension of the Cape Class Patrol Boat program – where Austal's efficiency gains on the vessels could be realised by the customer should the program be extended – opportunities for new vessels under the Australian Government's continuous shipbuilding program, and variant-style defence vessels, particularly for navies in the Middle East," said Mr Bellamy.
Mr Bellamy also added that the company has a strong $3.1 billion pipeline of work that stretches to calendar year 2020.