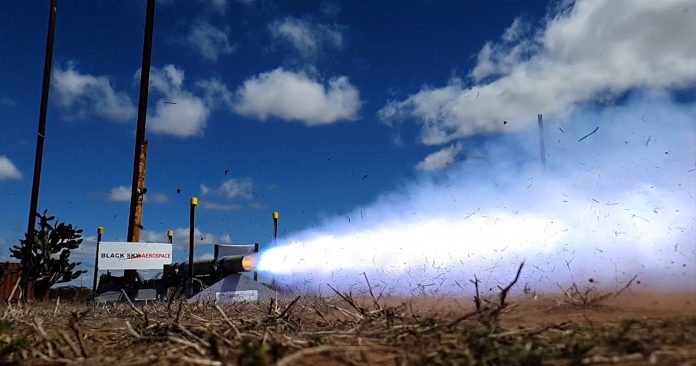 Queensland-based propellant manufacturer and launch service provider Black Sky Aerospace successfully launched the first rocket powered by Australian made fuel.
The project, which received co-funding and support from the Morrison Government's Advanced Manufacturing Growth Centre (AMGC), is now a cornerstone of Australia's growing space industry.
The Black Sky rocket launch marks the first time an Australian space project is supported on-shore fuel manufacturing.
Commenting on the launch, Minister for Industry, Science and Technology Karen Andrews said: "This is a major national milestone which makes Australia more self-reliant and less dependent on other countries in the crucial space sector.
"Australia has never before had the ability to make its own rocket fuel. With Government support, we've been able to engage the expertise and develop the skills we need to deliver a product we've previously had to import," said Blake Nikolic, CEO of Black Sky Aerospace.
The rocket fuel developed by Black Sky is of solid type, making it easier and safer for both Australian companies and potential export markets to transport and store as compared to liquid fuels.
Rocketing towards a manufacturing goal
The successful launch spells good news for the local space industry and Australia's manufacturing sector, as more growth opportunities are now on the horizon.
"With Australia now able to make our own solid-state rocket fuel, we're building robust supply chains for the Australian space sector, as well as other connected industries like defence."
According to Andrews, the milestone will help boost the local economy and create new jobs as the Government inches towards a $12 billion goal for the local space sector, alongside 20,000 new jobs by 2030.
"It also demonstrates the manufacturing opportunities in the booming space sector, and why space is one of the six priority areas in our government's Modern Manufacturing Strategy," Andrews added.
The $1.5 billion Modern Manufacturing Strategy will give support to six priority areas: resources technology and critical minerals processing, food and beverage, medical products, recycling and clean energy, defence, and space.